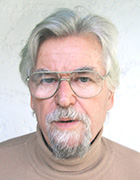 Prof. Dr. Hansjörg Oeltzschner
Honorary Professor at TUM since 1991
Field
Applied Geology,
Ecological Aspects of Geology
Career
Professor Oeltzschner started his career in 1969 as a scientific adviser, initially at the engineering office of Dipl.-Ing. E. Schwarz and later at the Applied Geophysical Society in Munich. After working as a scientific adviser for five years Professor Oeltzschner joined the waste management department of the Bavarian Environmental Protection Agency (LfU).
In 1976 he became head of the section responsible for the monitoring of waste treatment plants in Bavaria. In this role his activities involved monitoring commercial and municipal waste collection, treatment, processing, and disposal plants, heading a nationwide analysis of domestic waste and working on a register of contaminated sites in Bavaria.
Professor Oeltzschner became head of the Geotechnology and Geotechnical Environmental Control Section at the Bavarian Geological Agency in 1988. Shortly afterwards, in 1991, he was appointed senior government official.
Professor Oeltzschner had a teaching assignment for 25 years at the University of Applied Sciences Munich (Waste Management) and at TUM (Environmental Protection Technology).


Functions
Appointed senior government official (1991)
Head of the Geotechnology and Geotechnical Environmental Control Section at the Bavarian Geological Agency (1988-1999)
Head of the North Bavarian Waste Management Section (1986-1988)
Head of the section responsible for the monitoring of waste treatment plants in Bavaria (1976-1986)
Bavarian Environmental Protection Agency (LfU), Waste Management Department (1974-1988)
print view