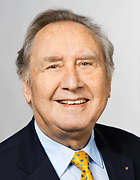 Prof. Theo Rahn
Honorary Professor at TUM since 1993
Field
Railway Systems and their Economically Viable Operation
Career
Between 1952 and 1956 Professor Rahn studied mechanical engineering at TUM. From 1962 to 1965 he undertook a course of post graduate studies in ergonomics and economics, also at TUM.
After completing a post graduate trainee program and passing the state examination leading to top engineering positions in the German Federal Railways (Deutsche Bundesbahn, DB) he joined DB's head office in Frankfurt am Main in 1973. Three years later he became business management department head responsible for corporate planning, accounting and procurement. He subsequently assumed the leadership of DB's central office in Munich from where DB's technology and procurement were centrally managed.
This job also involved being DB's senior research officer. Within the framework of the railway systems research project of the German government he was actively involved in the development of the Transrapid magnetic levitation vehicle and of the ICE high speed train. In 1992 he became a member of the management team of Deutsche Eisenbahn Consulting which was set up to advise railway companies, governments, local authorities and private investors in the field of transportation. In 1988 he took on a course of lectures at TUM entitled: "Railway Systems and their Economically Viable Operation." He was appointed honorary professor in 1993.
Functions
Editor of the German Railway Technology Review (ETR), member of ETR's scientific advisory council (1978-2000)

Chairman of the executive board of Deutsche Eisenbahn Consulting, Frankfurt am Main (1992-1995)

Member and chairman of the supervisory board of the testing and planning commission for the magnetic levitation train system (MVP) (1981-1995)

President of DB's central office in Munich and DB's senior research officer (1978-1992)

Assistant head, unit head and later department head at DB's head office in Frankfurt am Main (1973-1978)
Awards
Beuth Medal of Honor of the German Mechanical Engineering Society (DMG) (1996)
Cross of Merit on Ribbon of the Order of Merit of the Federal Republic of Germany (1991)
Grand Decoration of Honor in Gold for Services to the Republic of Austria
The William Alexander Agnew and Clarence Noel Goodall Award, The Institution of Mechanical Engineers (1998)
print view