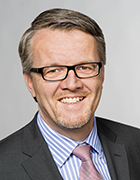 Prof. Dr. Werner Seidenschwarz
Honorary Professor at TUM since 2010
Field
Strategic Corporate Management
Career
Professor Seidenschwarz acquired his doctorate in 1993 for his thesis entitled "Target Costing – Market Driven Target Costing Management", the first monograph on this subject written outside Japan. In 2001 he acquired his postdoctoral teaching qualification (habilitation) from the University of Stuttgart for his work on leadership and change management.
Today Professor Seidenschwarz is chief operating officer of Seidenschwarz & Comp. GmbH, a firm specializing in management consulting, change management and executive leadership training and development. He was also the initiator of the "Starnberg Management Days". For the past 25 years he has held leadership positions in business, as a consultant, partner, member of the executive board and managing director of industrial and service companies.
In parallel to this he has carried out teaching assignments at LSE, London, TUM, the University of Stuttgart, the National University of Singapore, at HHL (Leipzig Graduate School of Management) and the University of Linz, Austria.
In numerous publications, including 10 books, he has made innovative contributions to the development of new management methods within his area of competence which includes change management, strategy, innovation, sales and marketing, product management, target costing, controlling and performance improvement.
Functions
Chief operating officer of Seidenschwarz & Comp. GmbH, Starnberg, Shanghai (since 2001)

Professor at TUM School of Management, Munich (2001-2003)

Partner and member of the executive board of Horváth & Partner GmbH, Stuttgart (1995-2001)

Leader of an enterprise project at Siemens AG, Munich (1992-1995)

Walter AG, Augsburg, and general secretary of the European Accounting Association
print view