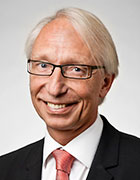 Prof. Dr. Karl Viktor Schaller
Honorary Professor at TUM since 2007
Field
Automotive Engineering
Career
Professor Schaller studied mechanical engineering at TUM from 1979 to 1985. Until 1990 he worked as a postgraduate assistant at TUM's Research Institute for Gears and Transmissions where he received his PhD (Dr.-Ing., magna cum laude) for his thesis on "The fatigue life of gears under load spectrum conditions".
He began his career in industry with MAN Nutzfahrzeuge AG (MAN Truck & Bus) in Munich where he started out as head of Axles and Transmission Testing. Four years later he became head of Drive Train Design, a position which he held until 1999 when he moved to a leadership role in Advanced Engineering. In 2001 Professor Schaller became technical director of the Heavy Trucks Business Unit and a member of the management. Between 2006 and 2009 he was a member of the executive board of MAN Nutzfahrzeuge AG, responsible for Engineering and Purchasing.
He is founder (2009) and CEO of kvs consulting which specializes in commercial vehicles and has multiple consulting contracts with tier 1 suppliers in the automotive industry.
Functions
Chairman of the supervisory board of Hofer AG (since 2011)

Board Member Vicura AB (since 2011)

Board Member Clean Air Power Ltd. (since 2010)

MD of kvs consulting (since 2009)

Executive Board Member Engineering and Purchasing of MAN Nutzfahrzeuge AG (2006-2009)
print view