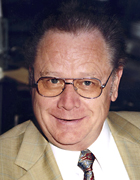 Prof. Dr. Erich Tolksdorf
Honorary Professor at TUM since 1997
Field
Materials in Nuclear Engineering
Career
Professor Tolksdorf studied physics in Germany and materials science in France at the Sorbonne in Paris. He received his doctoral degree (Dr.-Ing.) from the Technical University in Compiegne/France.
After finishing his studies Professor Tolksdorf worked as a project engineer at Babcock AG in Oberhausen/Germany in the field of nuclear technology. He was also a member of the scientific staff at the Risoe Research Centre of the Danish Atomic Energy Commission where he conducted research in the field of nuclear fuel elements. During the course of his career Professor Tolksdorf took on leadership roles at Sandvik Universal Tube, Sprendlingen; where he was responsible for fuel canning manufacturing, at ASEA Brown, Boverie ABB, Mannheim, where he was responsible for materials in nuclear engineering and damage assessment and at VGB Technical Association of Large Power Plant Operators, Essen, where he was responsible for materials under operating conditions.
From 1993 to 1997 Professor Tolksdorf had a teaching assignment at the TUM Department of Mechanical Engineering. His subjects were corrosion and corrosion prevention in mechanical and plant engineering.
Functions
Department director (HA-Leiter) VGB Technical Association of Large Power Plant Operators in Germany (1988-2001)
Managing director of VGB executive committee materials under operating conditions (1988-2001)
Member of the advisory committee of the Bavarian Research Cooperation Materials Sciences (FORMAT), of DDA, AD, FDBR, working group creep resistant steels, CEN and EPERC (1988-2001)
Head of damage assessment, ABB Mannheim (1977-1988)
Member of the scientific staff at the Risoe Research Centre of the Danish Atomic Energy Commission (1966-1974)
Awards
Recipient of the Carl von Bach commemorative coin from the Materials Testing Institute (MPA) at the University of Stuttgart (2001)
print view