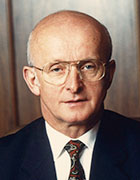 Prof. Dr. Herbert Wüst
Deceased October 14, 2017
Honorary Professor at TUM since 1987
Career
Professor Wüst studied law and passed the first state law examinations in Munich in 1963. After completing a mandatory legal internship and studying political science he passed the second state law examinations in 1968.
He started his legal career in 1968 with the government of Upper Bavaria where he joined the civil service fast stream development program. Subsequently, Professor Wüst held positions in various sections of the Bavarian Ministry of Food, Agriculture and Forestry. In 1973 he accepted a teaching assignment at TUM to lecture on agricultural, land, planning, administrative and EU law. In 1988 he was also offered a teaching assignment at the University of Passau. In parallel to this, Professor Wüst was spokesman of the executive board of Südfleisch GmbH and was also involved in the production of textbooks and other publications. Having been chairman of the executive board and chief financial officer of A. Moksel AG, he set up his own law practice in Unterhaching near Munich.
Between 1998 and 2008 Professor Wüst was chairman of the supervisory board and subsequently liquidator of Networks Unlimited AG. Over a period of 35 years he held various voluntary positions in his local community, Taufkirchen near Munich.
Functions
Attorney at law firm Kupka & Kollegen (1997-2012)

Chairman of the executive board and chief financial officer, Moksel AG (1994-1997)

Spokesman of the executive board, Südfleisch GmbH (1985-1986)

Deputy mayor and member of the council of Taufkirchen (1978-1984)

Chief of staff and personal assistant to the Bavarian Minister of State for Food, Agriculture and Forestry, Dr. Hans Eisenmann (1975-1982)
print view