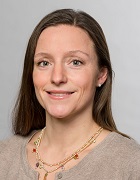 Prof. Dr. Hanna Hottenrott
Academic Career and Research Areas
Hanna Hottenrott's areas of interest involve industrial economics and applied micro-econometrics. Her research examines the economics of innovation, science and technological change.
She holds an advanced degree in economics from the University of Heidelberg and obtained a PhD in applied economics from KU Leuven (Belgium) in 2010. At KU Leuven she was affiliated with the Department of Managerial Economics, Strategy and Innovation and worked on topics relating to the financing of research and development (R&D) in the business sector. After graduating she was awarded a fellowship from the Flemish Science Foundation (FWO) and investigated questions in the fields of innovation and science policy. In 2013 she accepted an assistant professorship at the Düsseldorf Institute for Competition Economics (DICE) of the University of Düsseldorf before joining TUM School of Management in May 2016.
Key Publications
Hottenrott H, Lopes-Bento C: "Quantity or Quality? Knowledge Alliances and their Effects on Patenting." Industrial and Corporate Change. 2015; 24(5): 981-1011.
Abstract
Hottenrott H, Lopes-Bento C: "(International) R&D Collaboration and SMEs: The Effectiveness of Targeted Public R&D Support Schemes". Research Policy. 2014; 43(6): 1055-1066.
Abstract
Hottenrott H, Peters B: "Innovative Capability and Financing Constraints for Innovation: More Money, More Innovation?" Review of Economics and Statistics. 2012; 94(4): 1126-1142.
Abstract
Hottenrott H, Czarnitzki D, Thorwarth S: "Industrial Research versus Development Investment: The Implications of Financial Constraints". Cambridge Journal of Economics. 2011; 35(3): 527-544.
Abstract
Hottenrott H, Czarnitzki D: "Financial Constraints: Routine versus Cutting Edge R&D Investment". Journal of Economics and Management Strategy. 2011; 20(1): 121-157.
Abstract