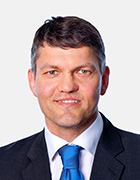 Prof. Dr. Thomas Hutzschenreuter
Chair
Betriebswirtschaftslehre – Strategic and International Management
Academic Career and Research Areas
The research of Thomas Hutzschenreuter (b. 1971) focuses on strategic and international management, (international) growth strategies and portfolio changes, strategic innovations, offshoring and business process outsourcing, and strategy processes and corporate governance.
After completing his first degree in business administration at Gießen University Hutzschenreuter acquired his doctoral degree (1997) and his postdoctoral teaching qualification (habilitation) (2001) from Leipzig Graduate School of Management. He was a visiting scholar at the University of Illinois at Urbana-Campaign, professor of International Management at Boston University, and a visiting professor at Duke University, Fuqua School of Business. From 2002 to 2015 he held the Chair of Corporate Strategy and Governance at WHU – Otto Beisheim School of Management. Hutzschenreuter is a member of various associations for which he also acts as a reviewer. He is Senior Editor of Management and Organization Review and Department Editor Management of the journal BuR – Business Research.
Awards
Best Annual Paper 2009 Award, Journal of Management Studies (2010)
Annual Best Reviewer Award, Journal of International Business Studies (2010)
Best Paper Award, Verband der Hochschullehrer für Betriebswirtschaft - VHB (2010)
Haynes Prize for the Most Promising Scholar in International Business, Academy of International Business Foundation and Eldridge Haynes Memorial Trust (2009)
Best Teacher Award, Master of Law and Business (MLB) Program of Bucerius Law School (2009)
Key Publications
Hutzschenreuter T, Horstkotte J: "Performance Effects of Top Management Team Demographic Faultlines in the Process of Product Diversification". Strategic Management Journal. 2013; 34(6): 704-726.
Hutzschenreuter T, Gröne, F: "Product and Geographic Scope Changes of Multinational Enterprises in Response to International Competition". Journal of International Business Studies. 2009; 40(7): 1149-1170.
Hutzschenreuter T, Gröne F: "Changing Vertical Integration Strategies under Pressure from Foreign Competition: The Case of US and German Multinationals". Journal of Management Studies. 2009; 46(2): 269-307.
Hutzschenreuter T, Voll J: "Performance Effects of "Added Cultural Distance" in the Path of International Expansion: the Case of German Multinational Enterprises". Journal of International Business Studies. 2008; 39(1): 53-70.
Hutzschenreuter T, Pedersen T, Volberda H: "Internationalization - The Role of Path Dependency and Managerial Intentionality: A Perspective on International Business Research". Journal of International Business Studies. 2007; 38(7): 1055-1068.
print view