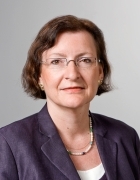 Academic Career and Research Areas
Professor Ihsen (b. 1964) conducts research in gender studies with the goal of understanding the form and structure of organizations and their processes, especially for engineering and scientific purposes, and of modifying these in terms of their innovation potential with regard to people and their technological development. This covers gender and diversity in (scientific) organisations, engineering education, the engineering profession, and research itself.
After completing a training as a state accredited preschool or nursery teacher in Bielefeld, she studied social sciences at the University of Duisburg and RWTH Aachen and received her doctorate from RWTH in 1999. She then went to the Association of German Engineers (VDI), where she became head of the Profession and Career Department in 2001. She joined TUM in 2004. She is also deputy chair of the Technology & Diversity Equal Opportunity excellence cluster, chair of the Gender and Diversity working group of the Société Européenne pour la Formation des Ingénieurs (SEFI), and a board member of the European Journal of Engineering Education.
Key Publications
Ihsen, S: "Technikkultur im Wandel: Ergebnisse der Geschlechterforschung in Technischen Universitäten. Bayerisches Institut für Hochschulforschung." Beiträge zur Hochschulforschung. 2010; 32: 80–97.
Ihsen S, Du X: "Diversity concepts and experiences in Engineering Education." European Journal of Engineering Education. 2009; 34 (Special Issue on Diversity concepts and experiences in Engineering Education).
Ihsen S: "Ingenieurinnen." In: Handbuch Frauen- und Geschlechterforschung. Theorie, Methoden, Empirie. Editor: Becker, Kortendieck. 2008: 799-805
print view