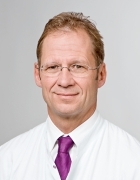 Prof. Dr. Andreas B. Imhoff
Academic Career and Research Areas
The research of Professor Imhoff (b. 1953) focuses on the cartilage and tissue engineering of tendons and the meniscus and on the biomechanics of the shoulder and knee joint. He also conducts research into new minimally invasive techniques for arthroscopic operations on athletes. Professor Imhoff completed his medical degree at the University of Basel where he also received his PhD in 1980. Positions as a doctor and scientist led him to the Universities of Basel (surgery, trauma surgery, orthopedics), Zurich (orthopedics, neurology) and Pittsburgh/USA (sports orthopedics). In 1996 he was appointed as successor to Professor W. Bernett at TUM.
Awards
Malaysian Federal Honorary Award of Darjah Kebesaran PANGLIMA JASA NEGARA (P.J.N.) "DATUK" (2010)
Miembro Honorario, Sociedad Argentina de Cirurgia de Hombro y Codo, Buenos Aires (2006)
Honorary Member of the Arthroscopy Association of North America (AANA, 2004)
Award of Association for Orthopaedic Research (AFOR): Enhancement of the Tendon-Bone Integration of ACL Tendon Grafts with BMP-2 Gene Transfer (2002)
Award of German Society of Arthroscopic Surgery (AGA, 1993)
Key Publications
Salzmann GM, Buchberger MS, Stoddart MJ, Grad S, Milz S, Niemeyer P, Suedkamp N, Imhoff AB, Alini M: "Varying regional topology within knee articular chondrocytes under simulated in vivo conditions". Tissue Eng Part A. 2010; Aug 31. [Epub ahead of print]
Abstract
Imhoff AB, Ansah P, Tischer T, Reiter C, Bartl C, Hench M, Spang JT, Vogt S: "Arthroscopic repair of anterior-inferior glenohumeral instability using a portal at the 5:30-o'clock position: analysis of the effects of age, fixation method, and concomitant shoulder injury on surgical outcomes". Am J Sports Med. 2010; 38(9):1795-1803.
Abstract
Salzmann GM, Walz L, Buchmann S, Glabgly P, Venjakob A, Imhoff AB: "Arthroscopically assisted 2-bundle anatomical reduction of acute acromioclavicular joint separations". Am J Sports Med. 2010; 38(6): 1179-1187.
Abstract
Tischer T, Aryee S, Wexel G, Steinhauser E, Adamczyk C, Eichhorn S, Milz S, Martinek V, Gänsbacher B, Imhoff AB, Vogt S: "Tissue engineering of the anterior cruciate ligament-sodium dodecyl sulfate-acellularized and revitalized tendons are inferior to native tendons". Tissue Eng Part A. 2010; 16(3): 1031-1040.
Abstract
Salzmann GM, Paul J, Bauer JS, Woertler K, Sauerschnig M, Landwehr S, Imhoff AB, Schöttle PB. "T2 assessment and clinical outcome following autologous matrix-assisted chondrocyte and osteochondral autograft transplantation". Osteoarthritis Cartilage. 2009; 17(12): 1576-1582.
Abstract
print view