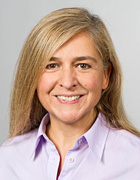 Prof. Dr. Aphrodite Kapurniotu
Academic Career and Research Areas
Prof. Kapurniotu's (b. 1961) research centers on peptide chemistry and biochemistry. One of the aims of her work is to develop new peptide-based molecules. She also examines chemical approaches for the diagnosis, treatment and understanding of molecular mechanisms of protein aggregation, cell degeneration and pathogenesis of the amyloid diseases Alzheimer's and type 2 diabetes. The methods she uses are derived from the disciplines of chemistry, biochemistry and biophysics.
Prof. Kapurniotu studied chemistry in Athens and Tübingen (1985), obtaining her doctorate in Tübingen in 1990. She traveled to the USA for research work at Rutgers University and the Picower Institute for Medical Research (1992-95). She completed her lecturer qualification in biochemistry in Tübingen (2001). After that, she headed up the biomedicine research group at RWTH Aachen (2002-07). She accepted the Chair of Peptide Biochemistry at TUM in 2007. Prof. Kapurniotu has filed five patent applications in the US and seven in Europe.
Key Publications
Andreetto E, Yan LM, Tatarek-Nossol M, Velkova A, Frank R, Kapurniotu A: "Identification of Hot Regions of the Aβ-IAPP Interaction Interface As High Affinity Binding Sites in both Cross- and Self-Association". Angew. Chem. Int. Ed. 2010; 49: 3081-3085.
Abstract
Velkova A, Tatarek-Nossol M, Andreetto E, Kapurniotu A: "Exploiting Cross-Amyloid Interactions to Inhibit Protein Aggregation but not Function: Nanomolar Affinity Inhibition of Insulin Aggregation by an IAPP mimic". Angew. Chem. Int. Ed. 2008; 47: 7114-7118.
Abstract
Yan LM, Velkova A, Tatarek-Nossol M, Andreetto E, Kapurniotu A: "Designed IAPP Mimic Blocks Aβ Cytotoxic Self-Assembly: Cross-Suppression of Amyloid Toxicity of Aβ and IAPP Suggests a Molecular Link between Alzheimer's Disease and Type 2 Diabetes." Angew. Chem. Int. Ed. 2007; 46: 1246-1252.
Abstract
Yan LM, Tatarek-Nossol M, Velkova A, Kazantzis A, Kapurniotu A: "Design of a mimic of non-amyloidogenic and bioactive IAPP as a nanomolar affinity inhibitor of IAPP fibrillogenesis and cytotoxicity". Proc. Natl. Acad. Sci. USA. 2006; 103: 2046-2051.
Abstract
Tatarek-Nossol M,Yan LM, Schmauder A, Tenidis K, Westermark G, Kapurniotu A: "Inhibition of IAPP amyloid fibril formation and apoptotic cell death by a designed IAPP amyloid core-containing hexapeptide". Chem. Biol. 2005; 12: 797-809.
print view