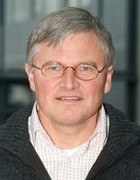 Academic Career and Research Areas
Prof Kemper's (b. 1958) research field is database systems. He explores ways to optimize information systems for operational and scientific applications as a way to combat the data explosion. His main areas of interest are optimization concepts for distributed information structures, data integration methods and main memory-based database systems.
After studying computer science at the University of Dortmund, he moved to the University of Southern California, Los Angeles. While there, he obtained his Master of Science and doctorate. Upon his return to Germany, he completed his lecturer qualification at the University of Karlsruhe. His first professorship was conferred by RWTH Aachen. After many years as Director of the Chair of Database Systems at the University of Passau, TUM offered him a position in 2004. From 2006 to 2010, he was Dean of the Department of Informatics at TUM. His textbook on database systems, published by Oldenbourg Verlag and now in its 8th edition, is a best-seller in German-speaking countries and is used in most universities and colleges.
Awards
Koautor eines der besten Paper der VLDB (1999)
Koautor eines der besten Paper der VLDB (Very Large Databases)-Konferenz (1998)
DAAD Stipendium für ein Studium in den USA (1980 – 1982)
Kemper A, Eickler A: Datenbanksysteme. Eine Einführung (7. Auflage). Oldenbourg Verlag, 2008.
Abstract
Gmach D, Krompass S, Scholz A, Wimmer M, Kemper A: "Adaptive Quality of Service Management for Enterprise Services." ACM Transactions on the Web (TWEB). 2008; 2(1): Article 8.
Abstract
Braumandl R, Kemper A, Kossmann D: "Quality of Service in an Information Economy." ACM Transactions on Internet Technology (TOIT).2003; 3(4): 291 - 333.
Abstract
Braumandl R, Keidl M, Kemper A, Kossmann D, Kreutz A, Seltzsam S, Stocker K: "ObjectGlobe: Ubiquitous Query Processing on the Internet." The VLDB Journal: Special Issue on E-Services. 2001; 10(3): 48-71.
Abstract
Kemper A, Moerkotte G: "Access Support Relations: An Indexing Method for Object Bases." Information Systems. 1992; 17(2): 117-146.
print view