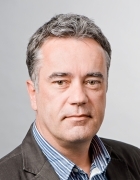 Prof. Dr. Martin Klingenspor
Academic Career and Research Areas
Prof. Klingenspor (b. 1961) researches the mechanisms of metabolic regulation with the aim of identifying how nutrition affects the body's energy balance, i.e. the balance between energy intake and energy expenditure. His work centers on examining regulation of the efficiency of energy conversion in mitochondria as the powerhouses of eukaryotic cells.
After studying biology (1994), Prof. Klingenspor did his doctorate at Philipp University of Marburg. Thanks to a research grant from the German Research Foundation (DFG) (1995/96), he went to work under Prof. Karen Reue at West Los Angeles VA Medical Center (USA). He returned to Marburg to complete his lecturer qualification (2001) in zoology and animal physiology. He became deputy head of that university's Department of Animal Physiology (2004). In 2007, he accepted TUM's offer of the Chair of Molecular Nutritional Medicine. Prof. Klingenspor is an appointed expert in various German and international research organizations. He is the co-editor of the American Journal of Physiology – Regulatory, Integrative and Comparative Physiology.
Key Publications
Meyer CW, Willershäuser M, Jastroch M, Rourke B, Fromme T, Oelkrug R, Heldmaier G, Klingenspor M: "Adaptive thermogenesis and thermal conductance in wildtype and UCP1-KO mice." Am J Physiol Regul Integr Comp Physiol. 2010; 299(5):R1396-406.
Abstract
Fromme T, Hoffmann C, Nau K, Rozman J, Reichwald K, Utting M, Platzer M, Klingenspor M: "An intronic single base exchange leads to a brown adipose tissue specific loss of Ucp3 expression and an altered body mass trajectory." Physiol Genomics. 2009; 38(1): 54-62.
Abstract
Bolze F, Klingenspor M: "Mouse models for the central melanocortin system." Genes Nutr. 2009; 4(2): 129-34.
Abstract
Jastroch M, Withers KW, Taudien S, Frappell PB, Helwig M, Fromme T, Hirschberg V, Heldmaier G, McAllan BM, Firth BT, Burmester T, Platzer M, Klingenspor M: "Marsupial uncoupling protein 1 sheds light on the evolution of mammalian nonshivering thermogenesis." Physiol Genomics. 2008; 32(2): 161-169.
Abstract
Helwig M, Khorooshi RM, Tups A, Barrett P, Archer ZA, Exner C, Rozman J, Braulke LJ, Mercer JG, Klingenspor M: "PC1/3 and PC2 gene expression and post-translational endoproteolytic pro-opiomelanocortin processing is regulated by photoperiod in the seasonal Siberian hamster (Phodopus sungorus)." J Neuroendocrinol. 2006; 18(6): 413-425.
Abstract
print view