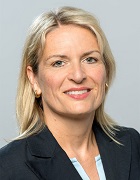 Prof. Dr. Stefanie J. Klug
Academic Career and Research Areas
The main research interest of Professor Klug is the prevention of chronic diseases. Her research has a focus on cancer epidemiology, secondary data analysis, epidemiological and statistical methods, molecular epidemiology and infections with human papillomaviruses (HPV).
Professor Klug studied Biology at the University of Regensburg and the University of Colorado at Boulder, USA. After receiving her PhD in 1997 at the Gene Center of the University of Munich (LMU), she studied Public Health and Epidemiology at LMU. She conducted postdoctoral research at the International Agency for Research on Cancer (IARC) in Lyon, France, and was a researcher at the Department of Health Sciences at the University of Bielefeld. After acquiring her teaching quali­fication (Habilitation) at the University Medical Center of the University of Mainz in 2008, she was appointed associate professor of Cancer Epidemiology at the University Cancer Center of the Technical University of Dresden in 2010. Since July 2016 she has been a full professor and holds the Chair of Epidemiology at TUM.
Awards
Award of the Stiftung Präventive Pädiatrie (2009)
Bavarian Public Health Lion (1999)
Key Publications
Schülein S, Taylor KJ, König J, Claus M, Blettner M, Klug SJ: "Factors influencing uptake of HPV vaccination among girls in Germany". BMC Public Health. 2016; 16: 995.
Abstract
Radde K, Gottschalk A, Bussas U, Neumann A, Seifert U, Schülein S, Kaiser M, Blettner M, Klug SJ: "Invitation to cervical cancer screening does increase participation in Germany: results from the MARZY Study". International Journal of Cancer. 2016; 139(5): 1018-1030.
Abstract
Klug SJ, Neis KJ, Harlfinger W, Malter A, König J, Spieth S, Brinkmann-Smetanay F, Kommoss F, Weyer V, Ikenberg H: "A Randomized Trial Comparing Conventional Cytology to Liquid-Based Cytology and Computer Assistance". International Journal of Cancer. 2013; 132(12): 2849-2857.
Abstract
Klug SJ, Taylor KJ, Scheidemann-Wesp U, Lautz D, Güther B, Potthoff P, Blettner M: "Participation in cervical cancer screening in Germany". Preventive Medicine. 2010; 51(5): 431-432.
Abstract
Klug SJ, Ressing M, König J, Abba MC, Agorastos T, Brenna SMF, Ciotti M, Das BR, del Mistro A, Dybikowska A, Giuliano AR, Gudleviciene Z, Gyllensten U, Haws A, Helland A, Herrington CS, Hildesheim A, Humbey O, Jee SH, Kim JW, Madeleine MM, Menczer J, Ngan H, Nishikawa A, Niwa Y, Pegoraro R, Pillai MR, Ranzani GN, Rezza G, Rosenthal A, Roychoudhury S, Saranath D, Schmitt VM, Sengupta S, Settheetham-Ishida W, Shirasawa H, Snijders P, Stoler MH, Suárez-Rincon AE, Szarka K, Tachezy R, Ueda M, van der Zee A, von Kebel Doeberitz M, Wu M-T, Yamashita T, Zehbe I, Blettner M: "TP53 codon 72 polymorphism and cervical cancer: pooled analysis of individual data of 15 834 women from 49 studies". Lancet Oncology. 2009; 10(8): 772-784.
Abstract
print view