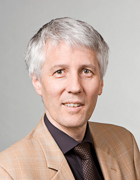 Prof. Dr.-Ing. Alois Knoll
Academic Career and Research Areas
The research activities of Professor Knoll (b. 1961) focus on cyber-physical systems, development tools for fault-tolerant systems, cognitive and sensor-based robots and medical robotics.
Professor Knoll was awarded a doctorate (1988) and completed his lecturer qualification (1993) at the Technical University of Berlin. Following this, he was a full professor and Director of the Computer Engineering research group at the University of Bielefeld until 1991, when he assumed the professorship of Real-Time Systems and Robotics at TUM. In addition, from 2001 to 2005 Professor Knoll was Director of the Educational Robotics Department and a member of the management committee of the Fraunhofer Institute for Autonomous Intelligent Systems in Bonn. Since 2009, he has been a Director of Fortiss, an affiliated Institute of TUM, and Director of the Graduate School of Information Science in Health (GSISH).
Awards
Fellow, School of Engineering, The University of Tokyo (2010)
Expert Reviewer on panel für EU Projekte (seit 2002)
Carl-Ramsauer-Prize for the best PhD Thesis in Computer Science (1990)
Key Publications
Panin G, Knoll A: "Mutual information-based 3d object tracking". International Journal of Computer Vision. 2008; 78(1):107-118.
Abstract
Kuhn K, Knoll A: "Informatics and medicine - from molecules to populations". Methods Inf Med. 2008; 47(4): 283-295.
Abstract
Mayer H, Nagy I., Knoll A, Braun EU, Bauernschmitt R: "Adaptive control for human-robot skill transfer: Trajectory planning based on fluid dynamics". In: Proceedings of the IEEE International Conference on Robotics and Automation. 2007; 1800-1807.
Abstract
Knoll A, Christaller T: "Robotik". In: Reihe Fischer Kompakt. Frankfurt(Main): Fischer-Verlag, 2003.
Abstract
Knoll A: "Distributed contract networks of sensor agents with adaptive reconfiguration - modelling, simulation, implementation". Journal of the Franklin Institute, Elsevier Science. 2001; 338(6):669-705.
Abstract