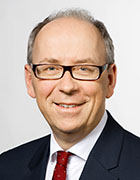 Prof. Dr. Percy A. Knolle
Academic Career and Research Areas
Professor Knolle (b. 1962) carries out research on the molecular and cellular mechanisms of organ-specific immune regulation. The main emphasis of this work is on liver immunology. His research contributes to our understanding of the immune competence of peripheral organs and lays the foundation for novel immunotherapeutic approaches to target chronic liver infection and cancer.
After studying medicine at the universities of Frankfurt, Paris, Birmingham, Geneva and Strasbourg, Professor Knolle performed his doctoral studies at the German Cancer Research Center in Heidelberg. Having completed his training leading to German medical board certification in internal medicine/hepatology at the University Hospital of Mainz, he pursued a career in research at the Centre for Molecular Biology in Heidelberg. In 2002 he set up the Institute of Molecular Medicine and Experimental Immunology at the University of Bonn. Since 2013 he has served as founding director of the Institute of Molecular Medicine (MOMENTUM) at the TUM School of Medicine.
Awards
Research Award of the Volkswagen Foundation (2001)
Key Publications
Wohlleber D. et al.: "TNF-induced target cell killing by CTL activated through cross-presentation". Cell Reports. 2012; 2(3): 478-487.
Abstract
Protzer U, Maini M, Knolle PA: "Living in the liver". Nature Reviews Immunology. 2012; 12(3): 201-213.
Abstract
Thomson A, Knolle PA: "Antigen presenting cell function in the tolerogenic liver environment". Nature Reviews Immunology. 2010; 10(11): 753-766.
Abstract
Kurts C, Robinson B, Knolle PA: "Cross-priming in health and disease". Nature Reviews in Immunology. 2010; 10(6): 403-414.
Abstract
Limmer et al.: "Efficient presentation of exogenous antigen by liver endothelial cells to CD8+ T cells results in antigen-specific T cell tolerance". Nature Medicine. 2000; 6(12): 1348-1354.
Abstract
print view