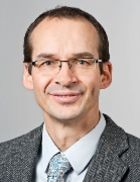 Prof. Dr. Johannes Kollmann
Academic Career and Research Areas
The research of Prof. Kollmann (b. 1963) focuses on the restoration of ecosystems destroyed by human activities. In particular, he investigates semi-natural reference systems, criteria for selecting plants for restoration purposes, plant-animal interactions, invasive alien species and the long-term monitoring of restored systems.
Prof. Kollmann studied biology and chemistry at the Universities of Kiel and Freiburg. He did his doctorate on the topic of vegetation ecology at the University of Freiburg. Following a postdoc stay at the University of Cambridge, he became a lecturer at the Swiss Federal Institute of Technology in Zurich. In 2000, he accepted a position at the University of Copenhagen and in 2010 accepted the Chair of Restoration Ecology at TUM. Prof. Kollmann is a member of several scientific associations and co-editor of a number of international environmental journals. He is regularly called on as an expert in Germany and abroad.
Awards
Ruf Universität Wien (2009)
Dozent des Jahres, KVL (2004)
Walter-Schall-Preis (1995)
Stipendium der Reinhold-Tüxen-Gesellschaft (1994)
Stipendium der Studienstiftung des deutschen Volkes (1991)
Key Publications
Durka W, Michalski S, Bossdorf O, Bucharova A, Hermann JM, Hölzel N, Kollmann J: "Grassland plants show species-specific patterns of genetic differentiation among seed transfer zones". J. Appl. Ecol. 2016; DOI: 10.1111/1365-2664.12636.
Abstract
Conradi T, Strobl K, Wurfer AL, Kollmann J: "Impacts of visitor trampling on the taxonomic and functional community structure of calcareous grassland". Appl. Veget. Sci. 2015; 18(3): 359-367.
Abstract
Pahl AT, Kollmann J, Mayer A, Haider S: "No evidence for local adaptation in an invasive alien plant: Field and greenhouse experiments tracing a colonization sequence". Ann. Bot. 2013; 112(9): 1921-1930.
Abstract
Zaplata MK, Winter S, Fischer A, Kollmann J, Ulrich W: "Species-driven phases and increasing structure in early-successional plant communities". Am. Nat. 2013; 181(1): E17-E27.
Abstract
Kollmann J, Brink-Jensen K, Frandsen SI, Hansen MK: "Uprooting and burial of invasive alien plants: a new tool in coastal restoration?" Rest. Ecol. 2011; 19(3): 371-378.
Abstract
print view