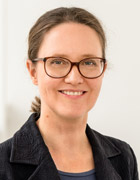 Prof. Dr. Angela Krackhardt
Academic Career and Research Areas
Professor Krackhardt's scientific focus is on the development of adoptive immunotherapies in malignant disease. She deals with aspects such as the identification and validation of new tumor associated antigens, the isolation and characterization of tumor reactive T-lymphocytes and T-cell receptors with specificity for different tumor associated antigens, such as FMNL1 and HER2/new. In this context she also works on the development of transgenic T-cells.
Professor Krackhardt (b. 1970) studied medicine in Berlin and continued her clinical education at the Charité. Her scientific career took her from Berlin where she completed her PhD to Harvard Medical School in Boston where she worked as a postdoctoral researcher and later as a faculty member (Instructor in Medicine). Following further clinical work at the Charité in Berlin she continued her scientific work as director of a junior research group at Helmholtz Zentrum Munich and was then appointed professor at TUM.
Key Publications
Liang X, Weigand LU, Schuster IG, Eppinger E, van der Griendt JC, Schub A, Leisegang M, Sommermeyer D, Anderl F, Han Y, Ellwart J, Moosmann A, Busch DH, Uckert W, Peschel C, Krackhardt AM: "A single T cell receptor (TCR) α-chain with dominant peptide recognition in the allo-restricted HER2/neu-specific T cell repertoire." J. Immunol. 2010; 184: 1617-1629.
Abstract
Han Y, Eppinger E, Schuster IG, Weigand LU, Liang X, Kremmer E, Peschel C, Krackhardt AM: "Formin-like 1 (FMNL1) is regulated by N-terminal myristoylation and induces polarized membrane blebbing." J Biol Chem. 2009; 284, 33409-33417.
Abstract
Schuster IG, Busch DH, Eppinger E, Kremmer E, Milosevic S, Hennard C, Kuttler C, Ellwart JW, Frankenberger B, Nößner E, Salat C, Bogner C, Borkhardt A, Kolb HJ, and Krackhardt AM: "Allorestricted T cells with specificity for the FMNL1-derived peptide PP2 have potent antitumor activity against hematological and other malignancies". Blood. 2007; 110 :2931-2939.
Abstract
Krackhardt AM, Witzens M, Harig S, Hodi S, Zauls J, Barrett P, Gribben JG: "Identification of tumor associated antigens in chronic lymphocytic leukemia by SEREX". Blood. 2002; 100: 2123-2131.
Abstract
Krackhardt AM, Harig S, Witzens M, Broderick R, Barrett P, Gribben JG: "T cell responses against chronic lymphocytic leukemia cells; implications for immunotherapy". Blood. 2002; 100: 167-173.
Abstract
print view