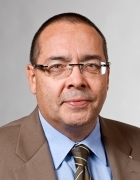 Academic Career and Research Areas
Prof. Krcmar's (b. 1954) research covers information management, IT-enabled value networks, service management, computer-supported cooperative work and information systems for IT service providers in healthcare and e-government.
He studied business management in Saarbrücken and obtained his doctorate in 1983. After that, he worked as a postdoctoral fellow at the IBM Los Angeles Scientific Center and as assistant professor of information systems at the Leonard Stern Graduate School of Business, New York University and Baruch College, City University of New York. From 1987 to 2002, he held the Chair of Information Systems at the University of Hohenheim, Stuttgart. From 2000 to 2002, he served as Dean of the Department of Business, Economics and Social Sciences. He is a member of the TUM School of Management and was Dean of the Department of Informatics from 2010 to 2013.
Awards
Distinguished Visiting Fellowship der Australien Computer Society (1996)
Key Publications
Krcmar H: Informationmanagement. Berlin: Springer-Verlag, 2010.
Leimeister JM, Krcmar H: "Community-Engineering Systematischer Aufbau und Betrieb Virtueller Communitys im Gesundheitswesen". Wirtschaftsinformatik (WI). 2006; 48(6): 418-429.
Krcmar H: "Bedeutung und Ziele von Informationssystem-Architekturen". Wirtschaftsinformatik (WI). 1990; 32(5): 395-402.
Abstract
Klein A, Helmut Krcmar: "DCXNET: e-transformation at DaimlerChrysler." JIT. 2006; 21(1): 52-65.
Abstract
Leimeister JM, Huber M, Bretschneider U, Krcmar H: "Leveraging Crowdsourcing: Activation-Supporting Components for IT-Based Ideas Competition". Journal of Management Information Systems. 2009; 26 (1): 197 - 224.
Abstract
print view