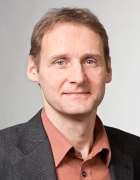 Prof. Dr.-Ing. Andreas Kremling
Academic Career and Research Areas
Prof. Kremling (b. 1965) explores the theoretical aspects of biotechnology processes. His particular aim is to develop meaningful mathematical models for optimal process design.
After studying technical cybernetics in Stuttgart, he did his doctorate there in 2002. He completed his lecturer qualification at the University of Magdeburg in 2009. In 1998, he commenced his research activities in systems biology at the Max Planck Institute for Dynamics of Complex Technical Systems in Magdeburg. In 2010, he became associate professor of system biotechnology at TUM.
Key Publications
Schenkendorf R, Kremling A, Mangold M: "Optimal experimental design with the sigma point method". IET Systems Biology. 2009; 3.
Abstract
Kremling A, Bettenbrock K, Gilles ED: "A feed-forward loop guarantees robust behavior in Escherichia coli carbohydrate uptake" Bioin.formatics. 2008; 24.
Abstract
Kremling A, Saez-Rodriguez J: "Systems Biology - an engineering perspective". J. Biotech. 2007; 129.
Abstract
Bettenbrock K, Fischer S, Kremling A, Jahreis K, Sauter T, Gilles, ED: "A quantitative approach to catabolite repression in Escherichia coli". JBC. 2006; 281.
Abstract
Kremling A, Fischer S, Gadkar K, Doyle FJ, Sauter T, Bullinger E, Allgoewer F, Gilles ED: "A benchmark for methods in reverse engineering and model discrimination: problem formulation and solutions". Genome Research. 2004; 14.
Abstract
print view