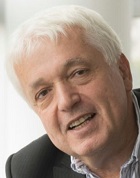 Academic Career and Research Areas
Professor Kuhn and his team develop innovative IT concepts and solutions for translational research in the field of medicine. Their main focus is on security and integration architectures. They are active in numerous national and international projects.
Professor Kuhn holds degrees in computer science, mathematics and medicine (Dipl. Inform., Dipl. Math., Dr. med., Dr. med. habil.) from the Universities of Stuttgart, Freiburg, Tübingen and Ulm. He worked at the University Hospitals of Heidelberg and Ulm. From 1996 to 2004 he held the Chair of the Department of Medical Informatics at the University of Marburg (Philipps-Universität Marburg). In parallel to this he was Chief Information Officer at the University Hospital of Marburg. He is a member of TUM's Department of Informatics and Co-Director of the Graduate School of Information Science in Health. Between 2007 and 2011 he was president and vice-president of the German Association for Medical Informatics, Biometry and Epidemiology.Professor Kuhn was elected a Fellow of the American College of Medical Informatics (AMIA) in 2008.
Key Publications
Haack TB, Haberberger B, Frisch EM, Wieland T, Iuso A, Gorza M, Strecker V, Graf E, Mayr JA, Herberg U, Hennermann JB, Klopstock T, Kuhn KA, Ahting U, Sperl W, Wilichowski E, Hoffmann GF, Tesarova M, Hansikova H, Zeman J, Plecko B, Zeviani M, Wittig I, Strom TM, Schuelke M, Freisinger P, Meitinger T, Prokisch H: "Molecular diagnosis in mitochondrial complex I deficiency using exome sequencing". J Med Genet. 2012; 49(4): 277-83.
Wichmann HE, Kuhn KA, Waldenberger M, Schmelcher D, Schuffenhauer S, Meitinger T, Wurst SH, Lamla G, Fortier I, Burton PR, Peltonen L, Perola M, Metspalu A, Riegman P, Landegren U, Taussig MJ, Litton JE, Fransson MN, Eder J, Cambon-Thomsen A, Bovenberg J, Dagher G, van Ommen GJ, Griffith M, Yuille M, Zatloukal K: "Comprehensive catalog of European biobanks". Nat Biotechnol. 2011; 29(9):795-797. HE Wichmann and KA Kuhn contributed equally to this work.
Abstract
Feulner TM, Laws SM, Friedrich P, Wagenpfeil S, Wurst SH, Riehle C, Kuhn KA, Krawczak M, Schreiber S, Nikolaus S, Förstl H, Kurz A, Riemenschneider M: "Examination of the current top candidate genes for AD in a genome-wide association study". Mol Psychiatry. 2009, 15: 756-766.
Abstract
Kuhn KA, Knoll A, Mewes HW, Schwaiger M, Bode A, Broy M, Daniel H, Feussner H, Gradinger R, Hauner H, Höfler H, Holzmann B, Horsch A, Kemper A, Krcmar H, Kochs EF, Lange R, Leidl R, Mansmann U, Mayr EW, Meitinger T, Molls M, Navab N, Nüsslin F, Peschel C, Reiser M, Ring J, Rummeny EJ, Schlichter J, Schmid R, Wichmann HE, Ziegler S: "Informatics and medicine-from molecules to populations". Methods Inf Med. 2008; 47(4): 283-295.
Lenz R, Beyer M, Kuhn KA: "Semantic integration in healthcare networks". Int J Med Inf. 2007; 76(2-3): 201-207.
print view