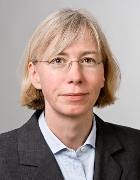 Academic Career and Research Areas
Prof. Lampe's work is focused primarily on the clinical application and basic research for the benefit of people with disabilities, in particular patients with cerebral palsy. She conducts perception research, which provides deeper insights into sensorimotor control processes in the brain in patients with cerebral palsy, and develops new concepts and therapies that promote improvements in motor skills and neuroplasticity. In basic research, she uses mathematical models and appropriate numerical methods to simulate cerebral blood flow and early cerebral hemorrhage.
Prof. Lampe (b. 1963) studied Medicine at the University of Heidelberg / Mannheim. After completing her resident training in orthopedics at Ludwig-Maximilian University of Munich (LMU), she worked in the Department of Orthopedic Surgery of the Technical University of Munich (TUM), where she was awarded a scholarship within the framework of the Women's Support Program. Since 2001 she has been a senior physician at the Orthopedic Clinic of TUM. She has held the Markus Würth Foundation's Endowed Chair since 2012 and is head of the Research Unit of the Buhl-Strohmaier-Foundation for Cerebral Palsy and Pediatric Neuro-Orthopedics at the Technical University of Munich.
Alves-Pinto A, Turova V, Blumenstein T, Thienel A, Wohlschläger A, Lampe R: "fMRI assessment of neuroplasticity in youths with neurodevelopmental-associated motor disorders after piano training". European Journal of Pediatric Neurology. 2015; 19(1): 15-28.
Lampe R, Thienel A, Mitternacht J, Blumenstein T, Turova V, Alves-Pinto A: "Piano training in youths with hand motor impairments after damage to the developing brain". Neuropsychiatric Disease and Treatment. 2015; 2015(11): 1929-1938.
Abstract
Lampe R, Turova V, Blumenstein T, Alves Pinto A: "Eye movement during reading in young adults with cerebral palsy measured with eye tracking". Postgraduate Medicine. 2014; 126(5): 146-158.
Lampe R, Botkin N, Turova V, Blumenstein T, Alves-Pinto A: "Mathematical modelling of cerebral blood circulation and cerebral autoregulation: towards preventing intracranial hemorrhages in preterm newborns". Computational and Mathematical Methods in Medicine. 2014; 2014 (965275).
Lampe R, Grassl S, Mitternacht J, Gerdesmeyer L, Gradinger R "MRT-measurements of muscle volumes of the lower extremities of youths with spastic hemiplegia caused by cerebral palsy". Journal of Brain and Development. 2006; 28: 500-506.
Abstract
print view