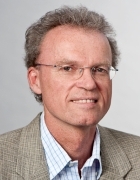 Prof. Dr. Dieter Langosch
Academic Career and Research Areas
The research interests of Prof. Langosch (b. 1958) are centered on the structure-function relationship of integral membrane proteins. The key area of investigation is how the interaction and dynamics of membrane-spanning protein domains regulate biological processes. These can include membrane fusion with neurotransmitter release and intramembrane proteolysis.
After first working in the industry, Prof. Langosch went on to study chemistry at Aalen University of Applied Sciences. He obtained his M.S. in biochemistry in Baton Rouge, USA. He completed his doctorate in biology at the University of Heidelberg and obtained his lecturer qualification from the University of Frankfurt. After receiving a Heisenberg grant, he led the "Structural Neurobiology" junior research group at the University of Heidelberg. Prof. Langosch has held a Chair at TUM since 2001. He has worked at the University of California, Irvine, as a visiting professor.
Awards
Heisenberg-Stipendium der DFG (1995)
Doktorandenstipendium des Fonds der Chemischen Industrie (1986)
Fulbright Exchange Fellowship (1984)
Poschner BC, Quint S et al.: "Sequence-specific conformational dynamics of model transmembrane domains determines their membrane fusogenic function". J. Mol. Biol. 2009; 386: 733-741.
Abstract
Langosch DL, Brosig B et al.: "Dimerisation of the glycophorin A transmembrane segment in membranes probed with the ToxR transcription activator". J. Mol. Biol. 1996; 263: 525-530.
Abstract
Langosch D and Heringa J: "Interaction of transmembrane helices by a knobs-into-holes packing characteristic of soluble coiled coils". Proteins Struct. Funct. Genet. 1998; 31: 150-159
Abstract
Langosch DJ, Crane M et al.: "Peptide mimics of SNARE transmembrane segments drive membrane fusion depending on their conformational plasticity". J. Mol. Biol. 2001; 311: 709-721.
Abstract
Hofmann M, Weise WK et al.: "De novo design of conformationally flexible transmembrane peptides driving membrane fusion". Proc. Natl. Acad. Sci. USA; 2004; 101: 14776-14781.
Abstract
print view