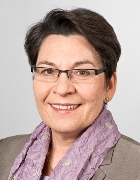 Prof. Dr. Eva-Maria Lankes
Academic Career and Research Areas
Prof. Lankes (b. 1953) works in the field of school and teaching research. As part of the Progress in International Reading Literacy Study (PIRLS), she compares reading learning at schools throughout the world. This involves analyzing how various didactic approaches affect scientific learning at infant school level (study on developing competence in the natural sciences at elementary level – SNaKE). She studies the impact of education standards, performs comparative analyses and looks at measures for internal and external school teaching evaluation.
After completing her teacher training course and teaching for several years at elementary school level, she studied pedagogy at Munich's Ludwig Maximilian University (MA 1985, doctorate 1992). From 2000 to 2004, she coordinated the PIRLS program at the University of Hamburg. She obtained her lecturer qualification there in 2004 and accepted a professorship at Leuphana University Lüneburg in 2006. Since 2010, she has held the Chair of School Pedagogy at TUM. She is Director of the Quality Agency at the State Institute for School Quality and Educational Research, Munich (ISB).
Awards
Lehrpreis der Leuphana Universität Lüneburg für innovative Lehre (2007)
Lankes EM, Kleinknecht M: "Kompetenzvermittlung im Unterricht". In: Reihe Schulleitung und Schulentwicklung. Editor: Buchen H, Horster L, Rolff HG. Stuttgart: Raabe-Klett, 2012; 57: 1-16.
Abstract
Carstensen CH, Lankes EM, Steffensky M: "Ein Modell zur Erfassung naturwissenschaftlicher Kompetenz im Kindergarten". Zeitschrift für Erziehungswissenschaft. 2011; 14(4), 651–669.
Abstract
Lankes EM: "Lehr- und Lernerfolg am Ende der Grundschule". In: Handbuch Grundschulpädagogik und Grundschuldidaktik. Editor: Einsiedler W, Götz M, Hartinger A, Heinzel F, Kahlert J, Sandfuchs U. Bad Heilbrunn: Klinkhardt, 2011: 120-128.
Abstract
Lankes EM, Carstensen CH: "Kann man große Klassen erfolgreich unterrichten?" In: IGLU 2006 - die Grundschule auf dem Prüfstand. Vertiefende Analysen zu Rahmenbedingungen schulischen Lernens. Editor: Bos W et al. 2010; 121-142.
Abstract
Lankes EM, Carstensen CH: "Der Leseunterricht aus der Sicht der Lehrkräfte." In: IGLU 2006 Lesekompetenzen von Grundschulkindern in Deutschland im internationalen Vergleich. Editors: Bos W, et al. 2007; 161-193.
print view