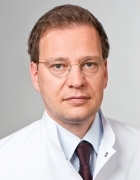 Prof. Dr. Karl-Ludwig Laugwitz
Academic Career and Research Areas
Professor Laugwitz (b. 1968) conducts research in the field of stem cell biology and cardiovascular development with the goal of using the findings for regenerative treatment applications in cardiology. His research interests primarily focus on human pluripotent stem cells (ES cells and iPS cells) for the molecular characterization of monogenetic and complex causes of disease on the cardiac and circulatory systems.
Following his medical and PhD (1996) studies in Berlin, he acquired his postdoctoral teaching qualification (habilitation) in 2002 at TUM. Subsequently he went to the Institute for Molecular Medicine, UC San Diego, as a Heisenberg scholarship recipient. In 2005 he was appointed to an assistant professorship position at the Cardiovascular Research Center (CVRC) of Massachusetts General Hospital at Harvard Medical School. This was followed by an appointment as professor of cardiology at TUM's Klinikum rechts der Isar and at the German Heart Center in 2006. He is spokesperson of the German Research Foundation (DFG) Collaborative Research Center 923 "Molecular analysis of cardiovascular function" and a much-quoted cardiologist (ISI) with over 80 publications and 5 patents. Since 2012 Prof. Laugwitz is the director of the Medical Clinic and Policlinic I. for Cardiology, Angiology and Pneumology.
Awards
Principal Investigator eines ERC-Grants (2011)
Koordinator eines Marie Curie Exzellenz Teams (2006)
Louis N. Katz-Preis der American Heart Association (2004)
Heisenberg-Stipendium der Deutschen Forschungsgemeinschaft (2002)
Habilitations-Preis der Technischen Universität München (1998)
Key Publications
Moretti A, Bellin M, Welling A, Jung CB, Lam JT, Bott-Flügel L, Dorn T, Gödel A, Höhnke C, Hofmann F, Seyfarth M, Sinnecker D, Schömig A, Laugwitz KL: "Patient-specific induced pluripotent stem cell models for long-QT syndrome". N Engl J Med. 2010; Epub Jul 21.
Abstract
Mehilli J, Kastrati A, Byrne RA, Bruskina O, Iijima R, Schulz S, Pache J, Seyfarth M, Maßberg S, Laugwitz K-L, Dirschinger J, Schömig A: "Paclitaxel- versus Sirolimus-eluting stent for unprotected left main coronary artery disease". J. Am. Coll. Cardiol. 12: 1760-1768.
Abstract
Laugwitz KL, Moretti, A, Caron L, Nakano A, Chien KR: "Islet1 cardiovascular progenitors: a single source for heart lineages?" Development 135: 193-205.
Abstract
Moretti A, Caron L, Nakano A, Lam J, Chen Y, Qyang Y, Sasaki M, Yunfu S, Evans S, Laugwitz KL, Chien KR: "Multipotent embryonic Isl1+ progenitor cells lead to cardiac, smooth muscle, and endothelial cell diversification". Cell. 2006; 127: 1151-1165.
Abstract
Laugwitz KL, Moretti A, Lam J, Gruber P, Chen Y, Woodard S, Lin LZ, Cai CL, Lu M, Reth M, Platoshyn O, Yuan J, Evans S, Chien KR: "Postnatal Isl1+ cardioblasts enter fully differentiated cardiomyocyte lineages." Nature. 2005; 433: 647-653.
Abstract
print view