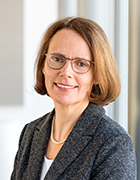 Prof. Dr. Doris Lewalter-Manhart
Academic Career and Research Areas
The research activities of Prof. Lewalter (b. 1965) involve analyzing the conditions, processes and results of teaching and learning inside and outside the school environment from a motivational perspective. She also examines how out-of-school learning environments like museums, science centers and student labs can support learning and motivation at secondary schools. Another area of interest is education research and evaluation in informal learning settings.
After studying pedagogy, with psychology and history of art as minor subjects, Prof. Lewalter completed her doctorate at Munich's Ludwig Maximilian University in 1996. She completed her lecturer qualification (2003) at Universität der Bundeswehr München. After that, she became professor of educational science at RWTH Aachen (2004-06). She was head of the teacher training center at that university and representative of the rector's office for teacher training as well as Director of the Institute of Educational Science (2005-06). In 2006, she accepted a professorship at TUM.
Key Publications
Lewalter D, Scholta D: "The influence of feedback and goal setting on situational interest and self-determined motivation in the CBL context." In: Contemporary Motivation Research: From Global to Local Perspectives. Editor: Wosnitza M, Karabenick A, Efklides A, Nenniger P. 2009; 229-248.
Lewalter D: "Der Einfluss emotionaler Erlebensqualitäten auf die Entwicklung der Lernmotivation in Universitären Lehrveranstaltungen." Zeitschrift für Pädagogik. Themenheft: Emotion und Lernen. 2005; 5: S. 642-655.
Lewalter D. Krapp A: "The role of contextual conditions of vocational education for motivational orientations and emotional experiences." Educational Psychologist. 2004, 9(4): 210-221.
Abstract
Lewalter D: "Cognitive strategies for learning from static and dynamic visuals." Learning and Instruction. 2003; 13: 177-189.
Abstract
Krapp A, Lewalter D: "Development of interests and interest-based motivational orientations. A longitudinal study in vocational school and work settings." In: Motivation in learning contexts: theoretical and methodological implications. Editor: Volet S, Järvelä S. 2001; 209-232.
print view