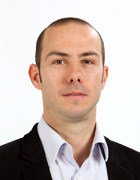 Prof. Dr. Heiko Lickert
Chair
Diabetes and Regeneration Research / Beta-Cell Biology
Academic Career and Research Areas
Prof. Lickert is a full professor and holds the Chair of ß-Cell Biology at TUM School of Medicine. He is also director of the Institute of Diabetes and Regeneration Research (IDR) and adjunct professor at the Institute of Stem Cell Research (ISF) at Helmholtz Zentrum München. He is on the executive committee of the Helmholtz Diabetes Center (HDC) and TUMCells GMP Facility and on the research coordination board of the German Center for Diabetes Research (DZD).
He obtained his PhD from the University of Freiburg and Max Planck Institute in Freiburg. His postdoctoral studies were carried out at Mount Sinai Hospital, Toronto, Canada. He is an expert on organ development and tissue homeostasis with emphasis on endocrine lineage formation in the gut and pancreas, insulin-producing ß-cell development, regeneration and replacement, as well as metabolic signaling and stem cell-based drug screening. His work has been funded by the European Research Council (ERC), a prestigious Emmy-Noether fellowship of the German Research Foundation (DFG), the Ministry of Education and Research (BMBF), the Alexander von Humboldt Foundation, the Helmholtz Association and the European Union.
Awards
Paula und Richard von Hertwig Prize for Interdisciplinary Cooperation (2011)
ERC Grant (2009)
Emmy Noether Fellow (2005)
Otto-Hahn-Medal, Max Planck Society (2003)
Hans-Spemann Prize, University of Freiburg (2002)
Gegg M, Böttcher A, Burtscher I, Hasenöder S, Van Campenhout C, Aichler M, Walch A, Grant SGN, Lickert H: "Flattop regulates basal body docking and positioning in mono- and multiciliated cells". eLife. 2014; DOI: 10.7554.
Yang D, Lutter D, Burtscher I, Uetzmann L, Theis FJ, Lickert H: "miR-335 promotes mesendodermal lineage segregation and shapes a transcription factor gradient in the endoderm." Development. 2014; 141 (3):514-525.
Engert S, Burtscher I, Liao WP, Dulev S, Schotta G, Lickert H: "Wnt/β-catenin signalling regulates Sox17 expression and is essential for organizer and endoderm formation in the mouse." Development. 2013; 140(15): 3128-3138.
Van Campenhout CA, Eitelhuber A, Gloeckner CJ, Giallonardo P, Gegg M, Oller H, Grant SG, Krappmann D, Ueffing M, Lickert H: "Dlg3 trafficking and apical tight junction formation is regulated by nedd4 and nedd4-2 e3 ubiquitin ligases". Dev Cell. 2011;21(3):479-491.
Kinzel D, Boldt K, Davis EE, Burtscher I, Trümbach D, Diplas B, Attié-Bitach T, Wurst W, Katsanis N, Ueffing M, Lickert H: "Pitchfork regulates primary cilia disassembly and left-right asymmetry". Dev Cell. 2010; 19 (1): 66-77.
print view