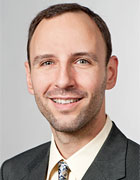 Academic Career and Research Areas
Professor Lieleg (b. 1980) carries out research on biopolymer based hydrogels such as the extracellular matrix, mucus or bacterial biofilms. The main focus of this research is the dual properties of these biomaterials including their mechanical properties and the regulation of the passive transport of particles and molecules through these hydrogels.
After completing undergraduate studies in biophysics at TUM, Professor Lieleg worked with Professor A. Bausch and completed his PhD in cellular biophysics in 2008. A scholarship awarded by the German Academic Exchange Service, DAAD, enabled him to work with Professor K. Ribbeck as a postdoctoral researcher at the FAS Center for Systems Biology at Harvard University (2009). Between 2010 and 2011 he worked as an instructor in the Department of Biological Engineering at Massachusetts Institute of Technology, USA. Since fall 2011 he has directed the biomechanics research group at the Institute of Medical Engineering (IMETUM).
Awards
Postdoc-Stipendium des Deutschen Akademischen Austauschdiensts (DAAD) (2009 – 2011)
Graduiertenstipendium der Universität Bayern e.V. (Bayerische Eliteförderung) (2006 - 2008)
Stipendium der Studienstiftung des Deutschen Volkes (2001 - 2005)
Karl-von-Frisch Preis für Biologie (1999)
Lieleg O, Ribbeck K: "Biological hydrogels as selective diffusion barriers". Trends in Cell. Biology. 2011; 21(9), 543-551.
Abstract
Lieleg O, Caldara M, Baumgärtel R, Ribbeck K: "Mechanical robustness of Pseudomonas aeruginosa biofilms". Soft Matter. 2011; 7(7), 3307-3314.
Abstract
Lieleg O, Kayser J, Brambilla G, Cipelletti L, Bausch AR: "Complex Slow Dynamics in Bundled Cytoskeletal Networks". Nature Materials. 2011; 10, 236-242.
Abstract
Lieleg O, Vladescu I. Ribbeck K: "Characterization of particle translocation through mucin hydrogels". Biophysical Journal. 2010; 98(9), 1782-1789.
Abstract
Lieleg O, Claessens MMAE, Luan Y, Bausch AR: "Transient Binding and Dissipation in Cross-linked Actin Networks". Phys. Rev. Lett. 2008; 101, 108101.
Abstract
print view