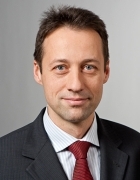 Prof. Dr.-Ing. Markus Lienkamp
Academic Career and Research Areas
Prof. Lienkamp (b. 1967) researches the area of electromobility with the objective of developing new vehicle concepts. He is Director of Research at TUM's Munich School of Engineering, the Science Center for Electromobility and the CREATE project in Singapore.
After studying mechanical engineering at TU Darmstadt and Cornell University, Prof. Lienkamp did his doctorate at TU Darmstadt (1995). He worked at Volkswagen as part of an international trainee program and played a role in a joint venture between Ford and Volkswagen in Portugal. Returning to Germany, he led the brake testing department in the VW commercial vehicle development section in Wolfsburg. He later became head of the "Electronics and Vehicle" research department in Volkswagen AG's Group Research division. One of his main priorities there was developing vehicle concepts for electromobility. Prof. Lienkamp started lecturing at TUM's Chair of Automotive Technology in November 2009. He took over the Chair from Prof. Dr. Ing. Bernd Heißing in October 2010. Prof. Lienkamp is a board member of the VDI Society for Automotive and Traffic Systems Technology.
Key Publications
Lienkamp M: Fahrerassistenz, Lenkungshandbuch. Wiesbaden: Vieweg + Teubner Verlag, 2009.
Lienkamp M: Perform, inform, warn, control – challenges for future driver assistance systems. Ludwigsburg: VDA Kongress, 2008.
Lienkamp M: Fahrerassistenzsysteme, HMI und Sicherheit. München: VDA Kongress, 2006.
Lienkamp M: Fahrsimulation – Der Traum nahe an die Realität zu kommen. Braunschweig: Motion Simulator, Keynote, 2005
print view