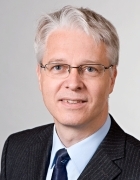 Prof. Dr.-Ing. Boris Lohmann
Academic Career and Research Areas
Prof. Lohmann (b. 1960) researches linear and nonlinear control theory, model order reduction and automatic control applications in mechatronics, automotive technology and plant automation.
After studying electrical engineering at the University of Karlsruhe, Prof. Lohmann completed his doctorate there in 1991. He then went to work at Siemens Electrocom in Konstanz, where he was involved in the development of mail sorting machines. He also lectured during that time and completed his lecturer qualification in 1994 in system dynamics and control engineering at Universität der Bundeswehr Hamburg. His last role at Siemens was Head of Mechanical Development. In 1997, he joined the University of Bremen as professor of control engineering and Head of the Institute of Automation. Since 2004, Prof. Lohmann has been full professor at the Chair of Automatic Control at TUM. In addition to 19 patents in the areas of mechatronics and system control, he has authored or co-authored over 200 publications and seven books.
Awards
Preise "Goldene Lehre" durch die Studierenden (2005, 2006' 2008' 2010, 2012)
Kotyczka P, Volf A, Lohmann B: "Passivity Based Trajectory Tracking Control with Predefined Local Linear Error Dynamics". American Control Conference. 2010, Baltimore, USA.
Abstract
Wolf T, Lohmann B, Eid R, Kotyczka P: "Passivity and Structure Preserving Order Reduction of Linear Port-Hamiltonian Systems using Krylov subspaces". European Journal of Contol. 2010; 16(4): 401-406.
Abstract
Koch G, Fritsch O, Lohmann B, "Potential of Low Bandwidth Active Suspension Control with Continuously Variable Damper". Control Engineering Practice. 2010; 18(11).
Abstract
Studener S, Lohmann B: "Estimation of Process Parameters on a Moving Horizon for a Class of Distributed Parameter Systems". Journal of Process Control. 2009; 19(10).
Abstract
Eid R, Salimbahrami B, Lohmann B: "Equivalence of Laguerre-based Order Reduction and Moment Matching". IEEE Transactions on Automatic Control. 2007; 52(6): 1104-1108.
Abstract
print view