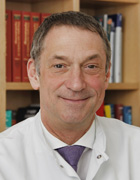 Prof. Dr. Chris P. Lohmann
Academic Career and Research Areas
Professor Lohmann (b. 1963) conducts research on corneal diseases and refractive surgery.
He studied medicine at Giessen University (Justus-Liebig-Universität) and LMU Munich. He earned doctoral degrees in Gießen (1991) and London (1995) and acquired his postdoctoral teaching qualification (habilitation) in Regensburg (2000). Between October 2004 and October 2005 he served as acting head of the Department of Ophthalmology at Klinikum rechts der Isar, TUM's university hospital. Since November 2005 he has been director of the Department of Ophthalmology and has held a W3 professorship position in the Department of Ophthalmology at TUM. Since 2002 Professor Lohmann has also been an adjunct professor at the Eye Research Institute at the University of Ottawa, Canada.
Key Publications
Khoramnia R, Salgado JP, Wuellner C, Donitzky C, Lohmann CP, Winkler von Mohrenfels C: "Safety, efficacy, predictability and stability of laser in situ keratomileusis (LASIK) with a 1000-Hz scanning spot excimer laser". Acta Ophthalmol. 2012; 90(6): 508-513.
Abstract
Khoramnia R, Salgado JP, Lohmann CP, Kobuch KA, von Mohrenfels CW: "Precision, morphology, and histology of corneal flap cuts using a 200-kHz femtosecond laser". Eur J Ophthalmol. 2012; 22(2): 161-167.
Abstract
Koelwel C, Rothschenk S, Fuchs-Koelwel B, Gabler B, Lohmann C, Gopferich A: "Alginate inserts loaded with epidermal growth factor for the treatment of keratoconjunctivitis sicca". Pharm Dev Technol. 2008; 13(3): 221-231.
Abstract
Li F, Carlsson D, Lohmann C, Suuronen E, Vascotto S, Kobuch K, Sheardown H, Munger R, Nakamura M, Griffith M: "Cellular and nerve regeneration within a biosynthetic extracellular matrix for corneal transplantation". Proc Natl Acad Sci USA. 2003 Dec 23; 100(26): 15346-51.
Abstract
Lohmann CP, Kroher G, Bogenrieder T, Spiegel D, Preuner J: "Severe loss of vision during adjuvant interferon alfa-2b treatment for malignant melanoma". Lancet. 1999; 353(9161): 1326.
Abstract