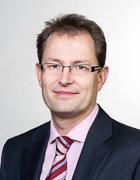 Prof. Dr. Christoph Lütge
Academic Career and Research Areas
Prof. Lütge (b. 1969) conducts research in the field of business and corporate ethics. He explores regulatory ethics – ethical behavior in the socio-economic framework of the globalized world. The role of competition and the incentives created by frameworks are also examined, as is the adequacy of ethical categories.
After studying business informatics and philosophy (doctorate 1999), Prof. Lütge became a research associate at the Chair of Philosophy and Economics at Munich's Ludwig Maximilian University. He also completed his lecturer qualification (2005) at the same institution. He has worked as a researcher in Pittsburgh, San Diego and Venice. From 2007 to 2010, he served as acting professor at the Universities of Witten/Herdecke and Braunschweig. Since 2010, he has held the position of Peter Löscher Professor of Business Ethics at TUM.
Awards
Heisenberg Fellowships (2007)
Lütge C, Rusch H: "The Systematic Place of Morals in Markets: Comment on Armin Falk & Nora Szech 'Morals and Markets'". Science. 2013; 341(6147): 714.
Lütge C: Handbook of the Philosophical Foundations of Business Ethics. Heidelberg: Springer, 2012.
Abstract
Lütge C: Was hält eine Gesellschaft zusammen? Ethik im Zeitalter der Globalisierung. Tübingen: Mohr Siebeck, 2007.
Lütge C: "An economic rationale for a work and savings ethic? J. Buchanan's late works and business ethics". Journal of Business Ethics. 2006; 66(1): 43-51.
Abstract
Lütge C: "Economics in philosophy of science: Can the dismal science contribute anything interesting?" Synthese. 2004; 140(3), 279-305.
print view