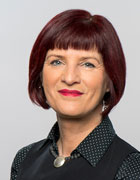 Academic Career and Research Areas
The core interests of Professor Maasen (b. 1960) are in the field of social science research. Her current work focuses primarily on the sociology of the neurosciences. She also conducts research in the field of technoscience.
Professor Maasen studied sociology, linguistics and psychology at the University of Bielefeld. In 1996 she earned her PhD in sociology and in 2001 she acquired her postdoctoral teaching qualification (habilitation). Between 1988 and 1994 she was a research assistant at Bielefeld University's Center for Interdisciplinary Research and from 1994 to 2001 research coordinator at Max-Planck Institute for Psychological Research. In 2001 she was appointed professor of scientific research/ sociology of science at the University of Basel. Since December 2013 she has held the Friedrich Schiedel Endowed Chair in the Sociology of Science at TUM.
Key Publications
Maasen S, Kaiser M, Reinhart M, Sutter B (Eds.): Handbuch Wissenschaftssoziologie. Wiesbaden: Springer, 2012.
Abstract
Maasen S, Kaiser M, Kurath M, Rehmann-Sutter C (Eds.): Governing Future Technologies - Nanotechnology and the Rise of an Assessment Regime. Sociology of the Sciences Yearbook. Dordrecht: Springer, 2010.
Abstract
Maasen S: Wissenssoziologie – Eine Einführung. Bielefeld: transcript, 2009.
Abstract
Maasen S, Sutter B (Eds.): On Willing Selves. Neoliberal Politics vis-à-vis the Neuroscientific Challenge. New York: Palgrave Macmillan, 2007.
Abstract
Maasen S, Weingart P (Eds.): Democratization of Expertise? Exploring Novel Forms of Scientific Advice in Political Decision-Making. Dordrecht: Springer, 2005.
Abstract
print view