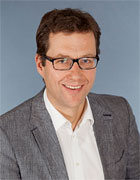 Academic Career and Research Areas
The research focuses of Professor Mall (b. 1968) are the fields of early childhood intervention, development and developmental disorders, psycho-social aspects, chronic diseases and therapy for children with cerebral palsy. In the field of early childhood intervention Professor Mall designs screening instruments for health-relevant psychosocial environmental factors. Using clinical neurophysiology diagnostic methods – e.g. transcranial magnetic stimulation and functional imaging – the neuronal plasticity of the brain of patients with developmental delays is examined and respective therapies explored. Patient and parent training programs are developed for children and adolescents with chronic diseases. A register of children and adolescents with cerebral palsy is currently being set up. The purpose of this registry is to improve treatment methods and address questions relating to epidemiology.
Professor Mall studied medicine at the University of Freiburg and completed his training leading to his German medical board certification in pediatrics and neuropediatrics at the University Hospital in Freiburg. In 2011 he accepted the offer of a professorship in the Department of Pediatric Neurology at the University of Dresden. Since January 2012 he has held a W3 professorship position in social pediatrics and been medical director of the Kinderzentrum München (Munich Children's Center).
Awards
Poster Award of the German Society of Pediatrics and Adolescent Medicine (DGKJ) (2012)

Poster Award of the South German Society of Pediatrics and Adolescent Medicine (SGKJ) (2012)

Poster Award of the German Society of Clinical Neurophysiology (DGKN) (2011)

Poster Award of the German Society of Neuropediatrics (GNP) (2010)

MacKeith Press Award of the American Academy of Cerebral Palsy (2007)
Key Publications
Delvendahl I, Lindemann H, Heidegger T, Normann C, Ziemann U, Mall V: "Effects of lamotrigine on human motor cortex plasticity". Clin Neurophysiol. 2012; online first.
Jung NH, Heinen F, Westhoff B, Doederlein L, Reissig A, Berweck S, Linder-Lucht M, Schandelmaier S, Mall V: "Hip lateralisation in children with bilateral spastic cerebral palsy treated with botulinum toxin type A: a 2-year follow-up". Neuropediatrics. 2011; 42(1): 18-23.
Delvendahl I, Kuhnke NG, Jung NH, Mainberger F, Cronjaeger M, Unterrainer J, Hauschke D, Mall V: "The time course of motor cortex plasticity after spaced motor practice". Brain Stimulation. 2011; 4(3): 156-164.
Jung N, Biscaldi-Schäfer M, Münchau A, Mainberger F, Bäumer T, Rauh R, Mall V: "Impaired induction of long-term potentiation-like plasticity in patients with high-functioning autism and Asperger syndrome". Neuropediatrics. 2010; 41: P1325; DOI: 10.1055/s-0030-1265571.
Walther M, Juenger H, Kuhnke N, Wilke M, Brodbeck V, Berweck S, Staudt M, Mall V: "Motor cortex plasticity in ischemic perinatal stroke – a transcranial magnetic stimulation and functional MRI study". Pediatr Neurol. 2009; 41(3): 171-178.
print view