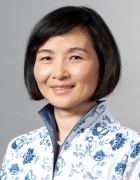 Prof. Dr.-Ing. Liqiu Meng
Academic Career and Research Areas
The primary research focuses of Professor Meng (b. 1963) are pattern recognition, generalization of geodata, visualization, graphic user interfaces, spatial data integration and mobile navigation services.
Professor Meng completed her study of cartography at the Institute of Surveying & Mapping of the People's Liberation Army (China) in 1985 with an MSc. degree. She received a doctorate in geodesy at the University of Hanover in 1993 and completed her lecturer qualification in 1998 in geoinformation sciences at the Royal Institute of Technology (Sweden). In the same year, she was appointed to the Chair of Cartography at TUM. Prof. Meng is a member of the Senate of the Helmholtz Society with responsibility for the Earth and Environment area. From 2008 to 2014 she was Senior Vice President for International Alliances and Alumni.
Awards
Heinz Maier-Leibnitz Medal (2007)
Outstanding Overseas Chinese Scholar (2001)
Meng L: "Cartography". In: Handbook of GeoMathematics. Editor: Freeden W, Zuhair Nashed M, Sonar T. 2010; 1289-1311.
Abstract
Meng L: "Affordance and Reflex Level of Geovisualization". In: Virtual Geographic environments. Editors: Lin H, Batty M. Science Press, Beijing. 2009; 139-154.
Abstract
Meng L: "Kartographie im Umfeld moderner Informations- und Medientechnologien". KN. 2008; 1: 3-10.
Abstract
Meng L: "Egocentric Design of Map-Based Mobile Services". The Cartographic Journal. 2005; 42 (1): 5-13.
Hake G, Grünreich D, Meng L: Kartographie - Visualisierung raum-zeitlicher Informationen. Berlin: de Gruyter Lehrbuch, 2002.
print view