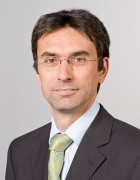 Prof. Dr.-Ing. Martin Mensinger
Academic Career and Research Areas
Prof. Mensinger (b. 1967) explores the area of extremal impact on steel structures (e.g. fire and explosion), the robustness and stability of steel and aluminum structures, glass structures and the sustainable use of metal construction materials.
After studying civil engineering at TU Karlsruhe and working as a structural engineer at Phillip Holzmann AG in Neu-Isenburg, Prof. Mensinger did his doctorate under Prof. Bode at the University of Kaiserslautern. His topic was fatigue problems in composite bridge building. He also worked as a structural engineer in the plant and power station construction section at Voss u. Kamb Partner GmbH in Kaiserlautern. In 2001, he joined the management team of H. Wetter AG in Switzerland. From 2003, he had the dual role of lecturer and Head of the Institute of Structural Engineering at Lucerne University of Applied Sciences and Arts. In 2006, he accepted the position of Chair of Metal Structures at TUM. Prof. Mensinger is a registered inspector and testing engineer for metal structures and a member of the board of the engineering firm Büchting + Streit AG in Munich.
Awards
Europäischer Stahlbaupreis (2007)
Prix Acier (2005 / 2007)
Key Publications
Mensinger M, Fontana M, Frangi A: "Entwicklung eines multifunktionalen Deckensystems mit erhöhter Ressourceneffizienz". Stahlbau. 2010; 79(4): 282-297.
Abstract
Mensinger M, Schwindl K: "Gelenkige Sekundärträgeranschlüsse mit langen Fahnenblechen im Verbundbau". Bauingenieur.2010; 85(10): 421-433.
Abstract
Zinke T, Diel R, Mensinger M, Ummenhofer T: "Nachhaltigkeitsbewertung von Brückenbauwerken". Stahlbau. 2010; 79(6): 448-455.
Abstract
Mensinger M, Trometer S: "Evaluation of Terrorist Attacks and Threats and Their Challenges for Civil Engineering in Design and Research". Protect. 2009; Shonan Village Center, Hayama, Japan.
print view