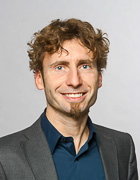 Academic Career and Research Areas
Filip Mess (b. 1976) conducts research in the field of sport pedagogy/didactics and sport psychology. The main emphasis of his work is on the determinants and effects of physical activity, focussing on its role in promoting health. In particular, his goal is to explore the physical activity of children and adolescents in schools settings and of adults in work settings. These research findings are then applied to the planning, implementation and evaluation of health promotion programs.
Mess studied sport science, mathematics and pedagogy at the University of Konstanz (2003). After earning his undergraduate degree, he went on to complete his PhD (2007) at the same university and acquired his postdoctoral teaching qualification (habilitation) (2014) at Karlsruhe Institute of Technology (KIT) (venia legendi in sport science). Between 2012 and 2014 he held the position of interim professor of the Social Science of Sport at the University of Konstanz. In 2014 he was appointed to a W3-professorship position at the University of Education in Schwäbisch Gmünd. At the beginning of the 2015/16 winter term he took on the professorship for Didactic Methods in Sport and Health at TUM.
Awards
University of Konstanz Student-led Teaching Award (2013)
Doctoral Dissertation Publication Prize, Publishers Karl Hofmann (2008)
Key Publications
Spengler S, Rabel M, Kuritz A, Mess F: "Trends in motor performance of first graders: A comparison of cohorts from 2006 to 2015". Frontiers in Pediatrics. 2017; 5: 206.
Abstract
Becker C, Lauterbach G, Spengler S, Dettweiler U, Mess F: "Effects of Regular Classes in Outdoor Education Settings. A Systematic Review on Students' Learning, Social and Health Dimensions". International Journal of Environmental Research and Public Health. 2017; 14(5): 485.
Abstract
Spengler S, Mess F, Woll A: "Do media use and physical activity behavior compete in adolescents? Results of the MoMo Study". Plos One. 2015; 10(12), e0142544.
Abstract
Rauner A, Mess F, Woll A: "The relationship between physical activity, physical fitness and overweight in adolescents: a systematic review of studies published in or after 2000". BMC Pediatrics. 2013; 13: 19.
Abstract
Mess F, Woll A: "Soziale Ungleichheit im Kindes- und Jugendalter am Beispiel des Sportengagements in Deutschland". Zeitschrift für Soziologie der Erziehung und Sozialisation. 2012; 32(4): 359-379.
Abstract