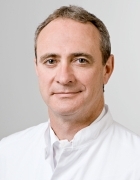 Academic Career and Research Areas
Professor Meyer (b. 1962) carries out research in the fields of vascular, oncological and spinal neurosurgery.
Professor Meyer studied medicine at the Universities of Padua/Italy and Erlangen-Nürnberg and also spent time abroad at Northwestern University, Chicago, and at the State University of New York, Brooklyn. He completed his medical studies and earned his PhD at the Institute for Human Genetics at the University of Erlangen-Nürnberg in 1989. He went on to train as a neurosurgeon in Tübingen, Duisburg and Bonn and spent time abroad in Zurich/Switzerland and Phoenix AZ/USA. In 1995 Professor Meyer acquired his German medical board certification in neurosurgery and became a senior physician at the Neurosurgical University Clinic in Bonn where he gained his postdoctoral teaching qualification (habilitation) in 1999. He was appointed Professor of Neurosurgery in 2001. Since 2006 Professor Meyer has held the Chair of Neurosurgery at TUM.
Awards
Präsident der Wirbelsäulensektion der European Association of Neurosurgical Societies (2010)
Vorstandsmitglied der Deutschen Akademie für Neurochirurgie (2009)
Key Publications
Dodel R, Winter Y, Ringel F, Spottke A, Gharevi N, Müller I, Klockgether T, Schramm J, Urbach H, Meyer B: "Cost of Illness in Subarachnoid Hemorrhage: A German Longitudinal" Stroke. 2010; 41: 2918-2123.
Abstract
Ringel F, Stoffel M, Stüer C, Totzek S, Meyer B: "Endoscopy-Assisted Approaches for Anterior Column Reconstruction After Pedicle Screw Fixation of Acute Traumatic Thoracic and Lumbar Fractures ". Neurosurgery. 2008; 62 (5): ONS445-ONS453.
Abstract
Stüer C, Ikeda T, Stoffel M, Luippold G, Sakowitz O, Schaller K, Meyer B: "Norepinephrine and Cerebral Blood Flow Regulation in Patients With Arteriovenous Malformations". Neurosurgery. 2008; 62 (6):1254-1261.
Abstract
Schaller C, Schramm J, Haun D, Meyer B: "Patterns of Cortical Oxygen Saturation Changes During CO2 Reactivity Testing in the Vicinity of Cerebral Arteriovenous Malformations". Stroke. 2003; 34 (4): 938-944.
Abstract
Meyer B, Schaller C, Frenkel C, Ebeling B, Schramm J: "Distributions of Local Oxygen Saturation and Its Response to Changes of Mean Arterial Blood Pressure in the Cerebral Cortex Adjacent to Arteriovenous Malformations". Stroke. 1999; 30 (12):2623-2630.
Abstract
print view