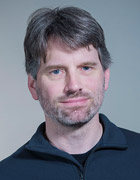 Academic Career and Research Areas
Professor Misgeld is a neurobiologist. He explores the mechanisms that contribute to the degeneration of axons and synapses in neurological diseases and during normal brain development. His research team employs the method of in vivo microscopy with a research focus on the peripheral nervous system and spinal cord. This technique is used in transgenic mice and zebra fish, which allow individual cells or cell functions to be demonstrated by means of genetic sensors.
Professor Misgeld (b. 1971) studied medicine at TUM (1999). A German Research Foundation (DFG) Emmy Noether postdoctoral fellowship took him to Washington University in St. Louis (2000-2004) and to Harvard University in Cambridge (2004-2006). From 2006 to 2009, he was director of a Sofja Kovalevskaja junior research group at the Friedrich Schiedel Institute for Neurosciences at TUM. Since 2009, Prof. Misgeld is the Chair of Biomolecular Sensors, which was established with the support of the Excellence Cluster Center for Integrated Protein Science Munich (CIPSM). Since 2012 Professor Misgeld has acted as co-spokesperson for the"SyNergy" Cluster of Excellence, a research project for which Munich's two universities, LMU and TUM, have worked in partnership to secure funding.
Awards
Schilling-Preis, Neurowissenschaftliche Gesellschaft (2007)
Sofja Kovalevskaja-Preis, Alexander von Humboldt-Stiftung (2006)
Robert Feulgen-Preis, Histochemische Gesellschaft (2005)
Angebot, Emmy Noether-Nachwuchsgruppe, DFG (2005)
Wyeth Young Investigator Award Multiple Sclerosis (2004)
Marinković P, Reuter M.S, Godinho L, Kerschensteiner M, Misgeld T: "Axonal transport changes in murine models of amyotrophic lateral sclerosis". PNAS. 2012; 109 (32): 4296-301.
Bishop D, Nikic I, Brinkoetter M, Knecht S, Potz S, Kerschensteiner M, Misgeld T: "Near-infrared branding efficiently correlates light and electron microscopy". Nature Methods. 2011; 8 (7): 568-70.
Nikić I, Merkler D, Sorbara C, Brinkoetter M, Kreutzfeldt M, Bareyre FM, Brück W, Bishop D, Misgeld T*, Kerschensteiner M.* (* equal senior authorship): "A reversible form of axon damage in experimental autoimmune encephalomyelitis and multiple sclerosis." Nat Med. 2011; 17(4):495-9. Epub 2011 Mar 27.

Abstract
Misgeld T, Kerschensteiner M, Bareyre FM, Burgess RW, Lichtman JW: "In vivo imaging axonal transport of mitochondria in mammals". Nature Methods. 2007; 4(7): 559-561.
Abstract
Kerschensteiner M, Schwab M, Lichtman JW, Misgeld T: "In vivo imaging of axonal degeneration and regeneration in the injured spinal cord". Nature Medicine. 2005; 11(5): 572-577.
Abstract
print view