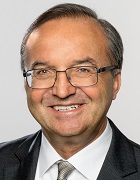 Prof. Dr.-Ing. Gerhard Müller
Academic Career and Research Areas
Professor Müller (b. 1960) conducts research into structural dynamics and vibroacoustics, in particular dynamic soil structure interaction, structural dynamics, sound radiation and sound fields generated by vibrations in buildings and vehicles. For this research he applies hybrid deterministic and statistical approaches.
After studying civil engineering at TUM, Professor Müller completed his PhD at the same university (1989). His postdoctoral teaching qualification (habilitation) is in engineering mechanics (1993). Between 1992 and 2004 he worked for a large engineering firm focussing on all aspects of sound, vibration and air pollution control. For nine years he was managing director of this firm. He has been a professor at TUM since 2004. He is executive president of the European Association for Structural Dynamics (EASD). In 2009/10 he was chairman of the umbrella association of the Faculty Associations for Engineering and Computer Science (4ING e.V.). Professor Müller is chairman of the Education Committee of the Bavarian Chamber of Engineers (Civil Engineers). Since 2014 he has been Senior Vice President for Academic and Student Affairs. In 2018 Professor Müller assumed the chairmanship of BayWISS.
Buchschmid M, Pospiech M, Müller G: "Coupling Impedance Boundary Conditions for Absorptive Structures with Spectral Finite Elements in Room Acoustical Simulations". Computing and Visualization in Science, accepted for publication.
Abstract
Müller G: "Räume für Musik, raumakustische Zielsetzung und Planung". Plenary lecture. 2005; proc 31 Jahrestagung für Akustik DAGA.
Guggenberger J, Müller G: "Erschütterungen". In: Taschenbuch der Technischen Akustik. Editor: Müller G, Möser M, (eds). 2004; 767-799.
Müller G: "Structure-borne sound – phenomena and prediction". semi-plenary keynote lecture, Fifth European Conference on Structural Dynamics. 2002; EURODYN, Munich: 111-122.
Müller G: "Die Statistische Energieanalyse - Eine Methode der numerischen Akustik". VDI-Berichte "Entwicklung lärm- und schwingungsarmer Produkte". 1999; 1491: 23-45.
Müller G: "Wellenausbreitung im elastischen Halbraum infolge einer sich kreisförmig ausbreitenden Druckbelastung". Ingenieur-Archiv. 1991; 61, 276 – 283.
print view