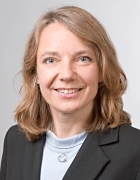 Prof. Dr. Gabriele Multhoff
Academic Career and Research Areas
One of the focus areas of the research work of Professor Multhoff (b. 1961) is the development of innovative immunological prognosis and treatment methods based on heat shock proteins (SFB 824: in vivo imaging). The aim is to use these new therapeutic approaches in combination with conventional radiation therapy in clinical therapies. Her current research work is leading to a randomized clinical phase II study entitled "Targeted NK cell based adjuvant immunotherapy for the treatment of patients with NSCLC after radiochemotherapy" funded by the German Federal Ministry of Education and Research (BMBF). Professor Multhoff's research interests also include the analysis of cellular, molecular biological and immunological mechanisms in normally oxygenated and hypoxic tumor tissue and normal tissue following exposure to radiation.
After studying biology at LMU Munich, Professor Multhoff completed her PhD in 1990 having conducted research work in the field of immunology. While she was working towards her postdoctoral teaching qualification (habilitation), which she acquired in 1998, she was supported by a Möllemann Habilitation grant. In 2002 she became professor of "Experimental Haematology" at the University Clinic in Regensburg before being appointed professor for "Experimental Radiooncology and Radiation Biology" at Klinikum rechts der Isar at TUM in 2007. Professor Multhoff is founder and managing director of multimmune GmbH. She is a commissioner of the German Academic Exchange Service (DAAD) and the EU as well as a member of numerous professional and scientific associations.
Awards
CESAR-Prize (2015)
Paula and Richard von Hertwig Award, GSF Helmholtzgemeinschaft (1998)
European Society of Hyperthermic Oncology Award, ESHO-BSD (1996)
Young Investigator Award at the VII International Congress on Hyperthermic Oncology, ICHO (1996)
Key Publications
Stangl S, Gehrmann M, Dressel R, Alves F, Dullin C, Themelis G, Ntziachristos V, Staeblein E, Walch A, Winkelmann I, Multhoff G: "In vivo imaging of CT26 mouse tumors by using cmHsp70.1 monoclonal antibody". J Cell Mol Med. 2010; in press.
Chalmin F, Ladoire S, Mignot G, Vincent J, Bruchard M, Remy-Martin JP, Boireau W, Rouleau A, Simon B, Lanneau D, De TA, Multhoff G, Hamman A, Martin F, Chauffert B, Solary E, Zitvogel L, Garrido C, Ryffel B, Borg C, Apetoh L, Rebe C, Ghiringhelli F: "Membrane-associated Hsp72 from tumor-derived exosomes mediates STAT3-dependent immunosuppressive function of mouse and human myeloid-derived suppressor cells". J. Clin Invest. 2010; 120(2): 457-471.
Schilling D, Gehrmann M, Steinem C, De MA, Pockley AG, Abend M, Molls M, Multhoff G: "Binding of heat shock protein 70 to extracellular phosphatidylserine promotes killing of normoxic and hypoxic tumor cells". FASEB J. 2009; 23(8): 2467-2477.
Gehrmann M, Grandl M, Liebisch G, Schmitz G, Anderson R, Steinem C, DeMaio A, Multhoff G: "Glycosphingolipid Gb3 enables anchorage of Hsp70 in the plasma membrane of tumor cells". PloS ONE. 2008; 3(4): e1925.


Gastpar R, Gehrmann M, Bausero M, Asea A, Gross C, Schroeder J, Multhoff G: "Hsp70 surface-positive tumor-exosomes stimulate migratory and cytolytic activity of NK cells". Can Res. 2005; 65(12): 5238-5247.


print view