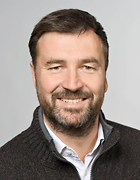 Academic Career and Research Areas
Prof. Nagler's Chair explores design methodologies and the direct implementation of analytical studies in actual designs. His particular area of interest is examining the material presence of objects.
After training as a carpenter, Prof. Nagler studied architecture at the University of Kaiserslautern. Visiting and acting professorships took him to the University of Wuppertal, the Royal Danish Academy of Fine Arts in Copenhagen and the Hochschule für Technik in Stuttgart. Prof. Nagler is a founding member of the Bundesstiftung Baukultur foundation. Since 2010, he has been a member of the Academy of the Arts, Berlin – Architecture section.
Awards
BDA Preis Bayern für das Besuchergebäude Gedenkstätte Dachau (2010)
Deutscher Holzbaupreis für den Kuhstall in Thankirchen (2009)
Förderungspreis der Berliner Akademie der Künste in der Sparte Baukunst (2007)
European Union Prize - Mies van der Rohe Award 2001 Special Mention (2001)
Balthasar-Neumann-Preis 2000 für das Distributionszentrum der Kaufmann Holz AG (2000)
Key Publications
Nagler F: "Firmensitz Niederstetten". In: DAM Jahrbuch 2006 Architektur in Deutschland. A.Becker u.a.. München 2006: 142 – 147.
Nagler F: "Kleine Fächer FU Berlin". Bauwelt. 2005 (34): 34 – 36.
Nagler F: "Distributionszentrum Bobingen". In: Neue Deutsche Architektur, Eine Reflexive Moderne. Editor: Ullrich Schwarz. 2002: 138 – 143.
Nagler F: "Hannover 2000 Wettbewerb Deutscher Pavillon". In: Phänomen Weltausstellungen 1851 – 2000. Deutscher Werkbund e.V.. 2000: 40 – 41.
Nagler F: "Distributionszentrum Bobingen". In: db Sonderheft Balthasar-Neumann-Preis 2000. Projektdokumentation. Deutsche Bauzeitung. 2000: 12 – 35.
print view