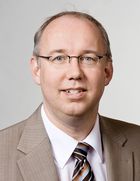 Academic Career and Research Areas
Prof. Nilges (b. 1971) conducts research into inorganic solid-state and materials chemistry, focusing on ion-conducting compounds, electrode materials for Li batteries and thermoelectric materials. His research activities include developing new synthesis strategies as well as understanding and optimizing the physical properties of energy materials and devising new conceptual approaches for them. Much of his work involves investigating main group and late transition metal compounds and optimizing them in terms of their electric and thermoelectric properties.
Prof. Nilges attended the Universities of Siegen and Aberdeen, Scotland and obtained his chemistry diploma in 1998. He completed his doctorate in Siegen in 2001. Following a period of research at the University of Regensburg, he did his lecturer qualification in 2004 at the University of Münster, where he was appointed sub-project leader of Collaborative Research Center 458. In 2007, he worked as an interim professor at the same university. In 2009, he was a visiting professor at the University of Bordeaux, France. Since 2010, he has been professor of synthesis and characterization of innovative materials at TUM and delivers lectures for the Advanced Materials Science elite program.
Awards
International Thermoelectric Society (ITS) Scientific and Applied Award for an outstanding scientific paper (2009)
Gastprofessur Universität Bordeaux (2009)
Forschungsförderung der Dr. Otto Röhm Gedächtnis-Stiftung (2008)
Nilges T, Osters O, Bawohl M, Bobet JL, Chevalier B, Decourt R: "Reversible property switching, thermoelectric performance and d10-d10 interactions in Ag5Te2Cl". Chem. Mater. 2010; 22(9): 2946–2954.
Abstract
Nilges T, Lange S, Bawohl M, Deckwart JM, Wiemhöfer HD, Decourt R, Chevalier B, Vannahme J, Eckert H, Weihrich R: "Reversible switching between p- and n-type conduction in the semiconductor Ag10Te4Br3". Nature Mater. 2009; 8(2): 101–108.
Abstract
Lange S, Bawohl M, Weihrich R, Nilges T: "Mineralisation routes to polyphosphides: Cu2P20 and Cu5InP16". Angew. Chem. Int. Ed. Engl. 2008; 47(30): 5654–5657.
Abstract
Lange S, Bawohl M, Nilges T: "Crystal structures, thermal and electrical properties of the new silver (poly)chalcogenide halides Ag23Te12Cl and Ag23Te12Br". Inorg. Chem. 2008; 47(7): 2625–2633.
Abstract
Lange P, Schmidt P, Nilges T: "Au3SnP7@black phosphorus: An easy access to black phosphorus". Inorg. Chem. 2007; 46(10): 4028–4035.
Abstract
print view