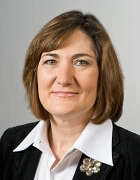 Prof. Dr. Renate Oberhoffer
Academic Career and Research Areas
The core research interests of Professor Oberhoffer (b. 1957) are in the field of general health research and preventative medicine in children and adolescents with a primary focus on cardiovascular parameters.
Professor Oberhoffer studied medicine at Johannes Gutenberg University Mainz (JGU) where subsequently obtained her license to practice medicine and earned her PhD. She acquired her German medical board certification in general pediatrics and adolescent medicine at the Olgahospital in Stuttgart and at Mainz University Children's Clinic specializing in pediatric cardiology. After acquiring her postdoctoral teaching qualification (habilitation) she moved on to Ulm University Children's Clinic and the National Heart and Lung Institute, Imperial College London. Prior to her appointment to the Chair for Sport and Health Promotion, she worked as a C3 professor in pediatric cardiology at TUM's Children's Clinic and at the German Heart Centre where she developed particular expertise in fetal cardiology. She was one of the initiators of the Mother and Child Center at Klinikum rechts der Isar. Since 2009 she has been a full professor and holder of the Chair for Sport and Health Promotion.
Awards
DEGUM-Ausbilderin (Deutsche Gesellschaft für Ultraschall in der Medizin) Pädiatrische Sonographie (seit 1992)
Habilitationsstipendium der DFG (1992-1995)
Stipendiatin der DFG und des British Council als Fellow (1988)
Key Publications
Böhm B, Hartmann K, Buck M, Oberhoffer R: "Sex differences of carotid intima-media thickness in healthy children and adolescents". Atherosclerosis. 2009; 206 (2), 458-463.
Schiessl B, Strasburger CJ, Bidlingmeier M, Gutt B, Kirk SE, Oberhoffer R, Friese K: "Role of placental growth hormone in the alteration of maternal arterial resistance in pregnancy". J Reprod Med. 2007; 52 (4): 313-316.
Allan L, Dangel J, Fesslova V, Marek J, Mellander M, Oberhänsli I, Oberhoffer R, Sharland G, Simpson J, Sonesson SE: "Recommendations for the practice of fetal cardiology in Europe". Cardiol Young. 2004; 14: 109-114..
Hauser M, Bengel FM, Kühn A, Sauer U, Zylla S, Braun SL, Nekolla SG, Oberhoffer R, Lange R, Schwaiger M, Hess J: "Myocardial blood flow and flow reserve after coronary reimplantation in patients after arterial switch and ross operation". Circulation. 2001; 103: 1875-1880.
Westerholt S, Tollens M, Güstrau A, Oberhoffer M, Karch H, Hartung T, Klare B, Pfeffer K, Emmrich P, Oberhoffer R: "Inflammatory and immunological parameters in children with hemolytic uremic syndrome - pathophysiological and diagnostic clues". Cytokines. 2000; 12: 822-827.
print view