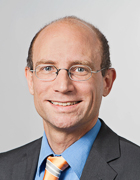 Academic Career and Research Areas
Professor Patzelt (b. 1974) conducts research on business ventures, strategic entrepreneurship and startup failure. His work covers both psychological aspects, such as cognition and decision-making by entrepreneurs, and economic factors, such as the behavior and success of younger and less risk-averse organizations.
Professor Patzelt obtained his degree in chemistry from TUM and the University of Karlsruhe. He completed his PhD in molecular biology at the University of Heidelberg. Parallel to this he completed post-graduate coursework in business administration at the Distance Education University Hagen (Fernuniversität Hagen) and a PhD in business administration from the University of Bamberg (2006). He later served as associate director at the Max Planck Institute of Economics in Jena and completed his postdoctoral teaching qualification (habilitation) in 2009 at the European Business School in Oestrich-Winkel. He has conducted research at ETH Zurich (2002) and the Leeds Business School of the University of Colorado in Boulder, USA (2005).
Awards
Wesley J. Howe Award for Excellence in Research on the Topic of Corporate Entrepreneurship, Babson College Entrepreneurship Research Conference, Chapel Hill, NC, USA (2008)
Fürther Ludwig Erhard-Preis (2007)
Gründungsforschungspreis des Förderkreises Gründungsforschung (FGF, 2007)
Haarmann-Preis der Universität Bamberg (2007)
Promotionspreis der Vereinigung für Allgemeine und Angewandte Mikrobiologie (VAAM, 2004)
Key Publications
Breugst N, Patzelt H, Shepherd DA, Aguinis H: "Relationship conflict improves team performance assessment accuracy: Evidence from a multilevel study". Academy of Management Learning and Education. 2012; 11(2): 187-206.
Patzelt H, Shepherd, DA: "Recognizing opportunities for sustainable development". Entrepreneurship: Theory & Practice. 2011; 35(4): 631-652.
Shepherd DA, Patzelt H, Wolfe, M: "Moving forward from project failure: Negative emotions, affective commitment, and learning from the experience". Academy of Management Journal. 2011: 54(6): 1229-1259.
Patzelt H, Lechner C, Klaukien A: "Networks and the decision to persist with underperforming R&D projects". Journal of Product Innovation Management. 2011; 28(5): 801-815.
Patzelt H, Shepherd DA: "Negative emotions of an entrepreneurial career: Self-employment and regulatory coping behaviors". Journal of Business Venturing. 2011; 26(2): 226-238.
print view