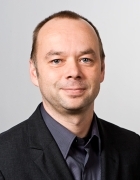 Prof. Dr.-Ing. Frank Petzold
Academic Career and Research Areas
The Chair of Prof. Petzold (*1968) deals with questions of information technology support in the architectural design process in both research and teaching. The research involves analyzing the activities of architects, formulating requirements for digital tools and – based on novel and future oriented technologies – creating concepts, developing and evaluating prototypical solutions.
After studying computer science, with a specialization in architecture and civil engineering, at the HAB Weimar (Bauhaus University Weimar), Prof. Petzold worked there as a research assistant at the Chair of Computer Sciences in Architecture. After completing his doctorate in 2001, he assumed the position of junior professor of architectural informatics in Weimar before being appointed full professor at TUM in 2009. Prof. Petzold is a founding member of the Association of Architectural Informatics in German-speaking regions and a member of the German Association of Computing in Civil Engineering, as well as various international bodies. Since 2014, Prof. Petzold has been Vice President of the DARL (German Federal Association of Deans and Directors of Architecture, Regional Planning, and Landscape Architecture).
Key Publications
Jenney SL, Mühlhaus M, Petzold F: "Connect, Motivate, Communicate: A Foundation for Gamification in Planning Communication". Proceedings of SIGraDi. Brasil, 2018; 5(1): 812-818.
Abstract
Zahedi A, Petzold F: "Utilization of Simulation Tools in Early Design Phases Through Adaptive Detailing Strategies". Proceedings of ACADIA. China, 2018.
Abstract
Roith J, Langenhan C, Petzold F: "Supporting the building design process with graph-based methods using centrally coordinated federated databases". Visualization in Engineering. 2017; 5: 20.
Abstract
Bonnet C, Bratoev I, Schubert G, Chokhachian A, Petzold F, Auer T: "Designing and Evaluating District Heating Networks with Simulation Based Urban Planning". URBAN-CE. Genova. 2017: 169-174.
Abstract
Seifert N, Mühlhaus M, Petzold F: "A Parametric 3d City Model: Basis for Decision Support in Inner-City Development". Proceedings of ICCCBE 2016 (16th International Conference on Computing in Civil and Building Engineering). Japan, 2016.
Abstract