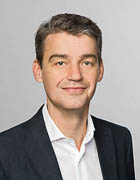 Prof. Dr. Markus Ploner
Assistant Professor
Human Pain Research
Academic Career and Research Areas
Professor Ploner works on the representation of pain in the human brain. His research group uses functional magnetic resonance imaging and electroencephalography and performs complex time-frequency and connectivity analyses of brain activity. The objective of his work is to elucidate the brain mechanisms of pain in health and disease with the ultimate goal of optimizing the diagnosis and therapy of chronic pain.
Professor Ploner studied medicine at the Universities of Cologne and Vienna and completed his doctorate at the University of Cologne. He worked as a postdoctoral researcher and trained as a neurologist at the Heinrich-Heine-University Düsseldorf. In 2007/2008 he was a Feodor Lynen Research Fellow of the Alexander von Humboldt Foundation at the University of Oxford. Since 2007 he has been head of a research group and a consultant of Neurology at the Department of Neurology at TUM. Since 2014 he has been a Heisenberg Professor of Human Pain Research at TUM.
Awards
Research prize for pain research, German Society for the Study of Pain (2011)
EFIC Grünenthal Grant, European Association for the Study of Pain (2007)
Young Scientists Award, Academy of Sciences and Humanities of the German state of North Rhine-Westphalia (2005)
Key Publications
Schulz E, May ES, Postorino M, Tiemann L, Nickel MM, Witkovsky V, Schmidt P, Gross J, Ploner M: "Prefrontal Gamma Oscillations Encode Tonic Pain in Humans". Cereb Cortex. 2015; 25(11):4407-14.
Abstract
Rauschecker JP, May ES, Maudoux A, Ploner M: "Frontostriatal Gating of Tinnitus and Chronic Pain". Trends Cogn Sci. 2015; 19(10): 567-78.
Abstract
Schulz E, Zherdin A, Tiemann L, Plant C, Ploner M: "Decoding an individual's sensitivity to pain from the multivariate analysis of EEG data". Cereb Cortex. 2012; 22(5): 1118-23.
Abstract
Ploner M, Lee MC, Wiech K, Bingel U, Tracey I: "Prestimulus functional connectivity determines pain perception in humans". Proc Natl Acad Sci USA. 2010; 107(1): 355-360.
Abstract
Gross J, Schnitzler A, Timmermann L, Ploner M: "Gamma oscillations in human primary somatosensory cortex reflect pain perception". PloS Biol. 2007; 5(5): e133.
Abstract
print view