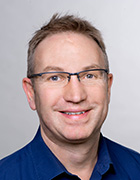 Academic Career and Research Areas
The research interests of Professor Auer (b. 1965) are in the field of climate responsive building design. The aim of this work is to optimize energy performance and environmental quality while taking into consideration local specifics such as the macro- and micro climate and the influence of building form and material. The research focuses primarily on energy efficiency and how it influences the built environment, in particular with reference to building scale (form, material and technology) and district/urban scale (urban form, infrastructure, etc.). Simulation tools are used to assist in analyzing and optimizing the interdependence between buildings and their technical services.
Professor Auer studied process engineering at the University of Stuttgart. Since then he has dealt extensively with issues relating to the energy efficiency and user comfort of buildings within the framework of his role at Transsolar Energietechnik GmbH. Between 2001 and 2008 Professor Auer had a teaching assignment at Yale University. Subsequently he held visiting professorship positions at the University of Kassel, the École Spéciale d'Architecture in Paris, the University of Sassari (Università degli Studi di Sassari) in Italy and Ryerson University in Toronto, Canada. He has been a professor at TUM since 2014.
Awards
Global Holcim Award in Silver for a multifunctional community center in Brazil (2012)
Innovation in Architecture, Royal Architectural Institute of Canada (2011)
TreeHugger Award as "Best Engineer" (2010)
Top Ten Green Buildings - American Institute of Architects, Committee on the Environment (2010)
Best Tall Building Americas Award, CTBUH (2009)
Knaack U, Klein T, Bilow M, Auer T: "Imagine 05 - Energy", 2011.
Knaack U, Klein T, Bilow M, Auer T: Fassaden – Prinzipien der Konstruktion. Basel (CH): Birkhäuser Verlag, 2007.
Auer T, Vanwyck J, Olsen E: "Sustainability Beyond LEED". In: Perspecta 45 Agency. Editors: Evans K, Falconer I, Mills I. Yale, MIT-Press. 2012: 177-184.
Abstract
Auer T: "Nutzung von Umweltfaktoren in der Architektur: (R)evolution". Intelligente Architektur. 2010; 73: 46-49.
Abstract
Auer T: "Winnipeg, Manitoba Hydro – Extreme Conditions". XIA International. 2008.