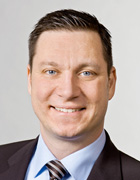 Academic Career and Research Areas
The field of research of Professor Brück (b. 1972) is industrial biocatalysis. The aim of his research is to seek sustainable solutions for the representation of chemical platform chemicals on the basis of biotechnological processes. The base material for these processes is biogenic waste streams. Enzymes or whole cell biocatalyst systems are used to convert these materials. Research in the field of industrial biocatalysis concentrates on mechanistic, structural and metabolic bases that lead to an improvement in these biocatalyst systems.
After studying chemistry and biochemistry and receiving his doctoral degree from the University of Greenwich, UK, Professor Brück worked as a postdoctoral researcher at the Centre of Excellence for Medical and Marine Biotechnology at Florida Atlantic University, USA. In 2003 he was appointed assistant professor of marine biotechnology. Between 2006 and 2011 he held leadership positions in the corporate research division of Süd-Chemie AG. Since 2011 Professor Brück has headed the Department of Industrial Biotechnology at TUM. He is a member of DECHEMA e.V., the German Society for Chemical Engineering and Biotechnology, and an advisory board member of the algae biotechnology special interest group. He is a co-founder of BB-SI UG, Cologne.
Guterl JK, Garbe D, Carsten J, Steffler F, Sommer B, Reiße S, Philipp A, Haack M, Rühmann B, Koltermann A, Kettling U, Brück T, Sieber V: "Cell-free metabolic engineering: production of chemicals by minimized reaction cascades". ChemSusChem. 2012; 5(11): 2165-2172.
Abstract
Brück TB, Brück DW: "Oxidative metabolism of the anti-cancer agent mitoxantrone by horseradish, lacto-and lignin peroxidise". Biochimie. 2011; 93(2): 217-226.
Abstract
Ranzer L, Brueck TB, Lopez J, Kerr RG: "A new prokaryotic farnesyldiphos¬phate synthase from the octocoral Eunicea fusca: differential display, inverse PCR, cloning, and characterization". Mar Biotechnol (NY). 2009; 11(1): 62-73.
Abstract
Al-Ghoul M, Brück TB, Lauer-Fields JL, Asirvatham VS, Zapata C, Kerr RG, Fields, GB: "Comparative proteomic analysis of matched primary and metastatic melanoma cell lines". J. Proteome Res. 2008; 7(9): 4107-4018.
Abstract
Brück TB, Fielding RJ, Symons MCR, Harvey PJ: "Mechanism of nitrite stimulated catalysis by lactoperoxidase". Eur. J. Biochem. 2001; 268(11): 3214-3222.
Abstract