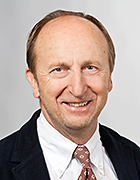 Academic Career and Research Areas
The research interests of Professor Burdach (b. 1952) focus on the development and optimization of therapies in the treatment of oncological disease in children and young people. Findings from cell biology are used to develop individualized therapies.
Following research posts at Harvard University, Stanford University and in Seattle working with Nobel laureate Don Thomas, Burdach acquired his postdoctoral teaching qualification (habilitation) in 1989 in Düsseldorf. Before being offered an appointment at TUM he was director of the University Hospital and Department of Outpatient Care and Pediatrics of Halle University (Martin Luther-Universität Halle-Wittenberg). Since 2003 he has been the director of the Department of Outpatient Care and Pediatrics at Klinikum rechts der Isar and head physician of the Children's Clinic at Schwabing Hospital in Munich. Professor Burdach is a member of the editorial boards and a consultant of several journals (including the International Journal of Pediatrics, Blood, Bone Marrow Transplantation), a consultant for the German Research Foundation (DFG), German Cancer Aid, the Wilhelm Sander Foundation and the German Childhood Cancer Foundation. He is also a scientific advisory board member of EOS Biotechnology and chairman of the board of trustees of the German Diabetes Research Institute. He holds intellectual property rights in the field of gene chip technology.
Awards
Kind-Philipp-Preis der Gesellschaft für Pädiatrische Onkologie und Hämatologie im Stifterverband für die deutsche Wissenschaft (2009)
Reinhard-Heynen- und Emmi-Heynen-Preis, Heinrich Heine Universität Düsseldorf (1991)
Hill Memorial Award, Stanford University (1987)
Key Publications
Burdach S, Meyer-Bahlburg A, Laws HJ, Haase R, Van Kaik B, Metzner B, Wawer A, Finke R, Gobel U, Haerting J, Pape H, Gadner H, Dunst J, Juergens H: "High-Dose Therapy for Patients With Primary Multifocal and Early Relapsed Ewing's Tumors: Results of Two Consecutive Regimens Assessing the Role of Total-Body Irradiation". J Clin Oncol. 2003; 21: 3072-3078.
Dirksen U, Nishinakamura R, Groneck P, Hattenhorst U, Nogee L, Murray R, Burdach S: "Human pulmonary alveolar proteinosis associated with a defect in GM-CSF/IL-3/IL-5 receptor common beta chain expression". J Clin Invest. 1997; 100: 2211-2217.
Dilloo D, Bacon K, Holden W, Zhong W, Burdach S, Zlotnik A, Brenner M: "Combined chemokine and cytokine gene transfer enhances antitumor immunity". Nat Med. 1996; 2: 1090-1095.
von Freeden-Jeffry U, Vieira P, Lucian LA, McNeil T, Burdach SE, Murray R: "Lymphopenia in interleukin (IL)-7 gene-deleted mice identifies IL-7 as a nonredundant cytokine". J Exp Med. 1995; 181: 1519-1526.
Richter GH, Plehm S, Fasan A, Rössler S, Unland R, Bennani-Baiti IM, et al. "EZH2 is a mediator of EWS/FLI1 driven tumor growth and metastasis blocking endothelial and neuro-ectodermal differentiation." P Natl Acad Sci USA 2009;106(13):5324-9.